Can you use hibiscus tea to make kombucha? And what are the benefits of it? Breaking down everything you need to know about hibiscus kombucha here!
As you get to brewing kombucha more and more, you may find yourself wanting to change up the flavors a bit. And while you can just change the kombucha flavors you add in the second fermentation, it's also fun to play around with different varieties of tea in the first fermentation!
While black tea is the classic kombucha flavor, we also love using green tea, which provides a lighter flavor and fizzier texture. But most recently my obsession has been with a tea variety that actually isn't a tea at all…hibiscus!
"One of my favorite flavors – I add ginger and raspberries to it too!"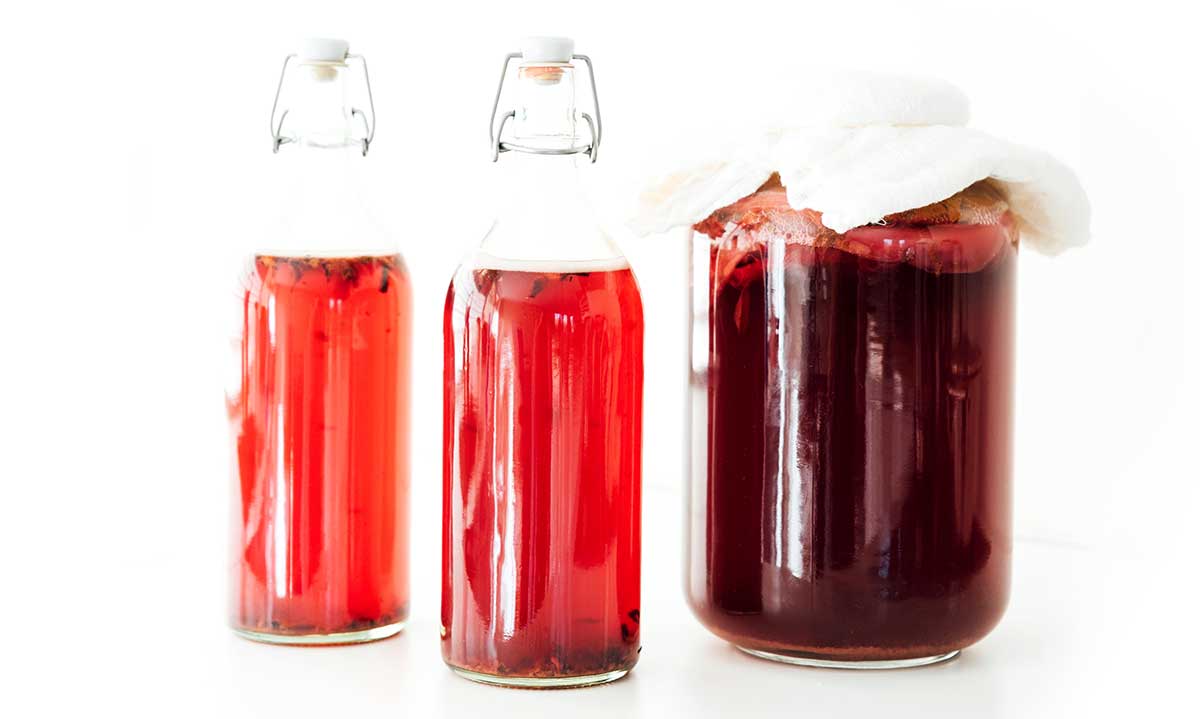 Can you use hibiscus to make kombucha?
Yes – you can make kombucha from hibiscus by using the dried flowers! Hibiscus kombucha has a more tart and floral flavor, with a bright pinkish/red color!
But what is hibiscus anyways? It's simply the dried parts of the hibiscus plant, a bright pink flowering plant native to many warm climates. It's high in antioxidants, adding to the health benefits of kombucha.
You can make hibiscus kombucha in one of two ways: in the first fermentation or the second fermentation. Let's walk though each option!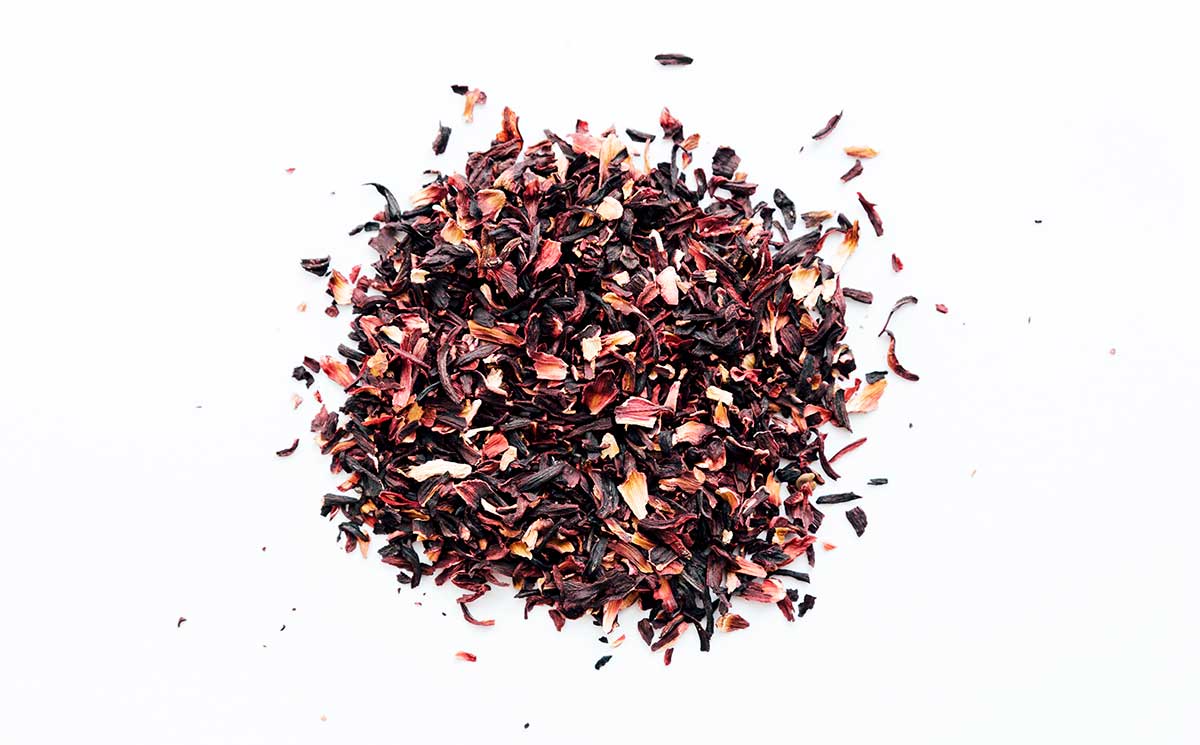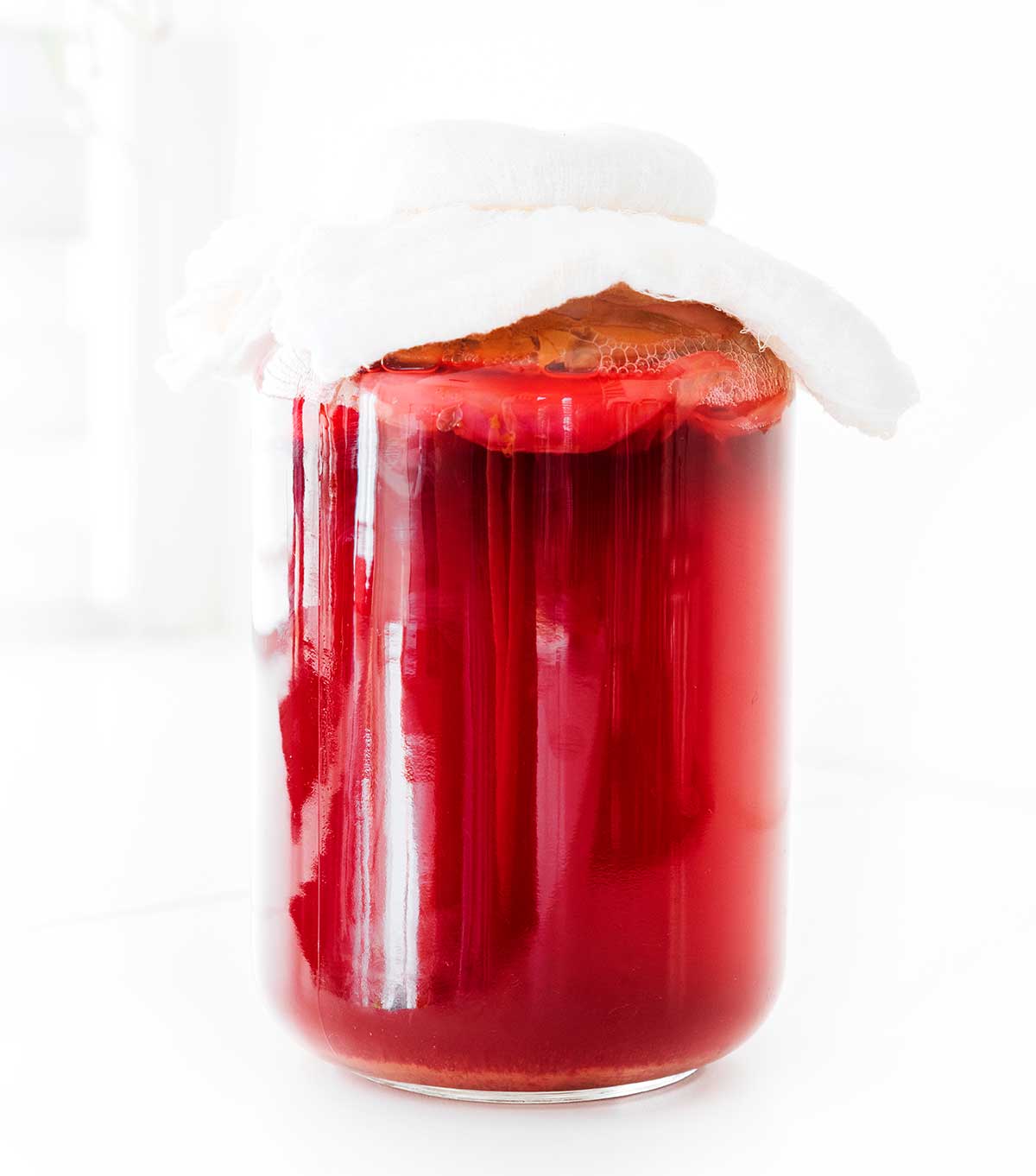 Making hibiscus kombucha in the first fermentation
Your first option is to make hibiscus kombucha in the first fermentation. This is the fermentation where you actually make the kombucha by combining sweet tea, starter kombucha, and a SCOBY.
To use hibiscus here, simply replace the black tea bags with dried hibiscus flowers, steeping them in the hot water to extract all their delicious flavor! You can use 100% hibiscus, or combine it with black (or green) tea bags.
Then simply run the first fermentation like you usually would, letting the kombucha brew for 6 to 10 days until it reaches a flavor you like. From there, you can bottle the hibiscus kombucha with your favorite flavors to create a flavorful, carbonated kombucha (or simply drink it straight from the first fermentation).
If, after many batches, you notice your hibiscus kombucha starting to decline (taking longer to brew or not fermenting well), do one batch of black tea kombucha to reinvigorate the SCOBY and starter tea.
Note that if you use hibiscus in the first fermentation, it will dye your SCOBY bright pink! If you don't want to dye your precious SCOBY, try making hibiscus kombucha in the second fermentation instead.
Making hibiscus kombucha in the second fermentation
Another option for making hibiscus kombucha is by adding the hibiscus in the second fermentation. This is the fermentation where you transfer your kombucha to airtight bottles in order to carbonate and flavor it.
To use hibiscus here, you'll just add the dried hibiscus flowers into your bottles of kombucha (along with any other flavors you might want to add). Then seal the bottles shut and let them ferment as usual, for 3 to 10 days, until it reaches a carbonation level that you like.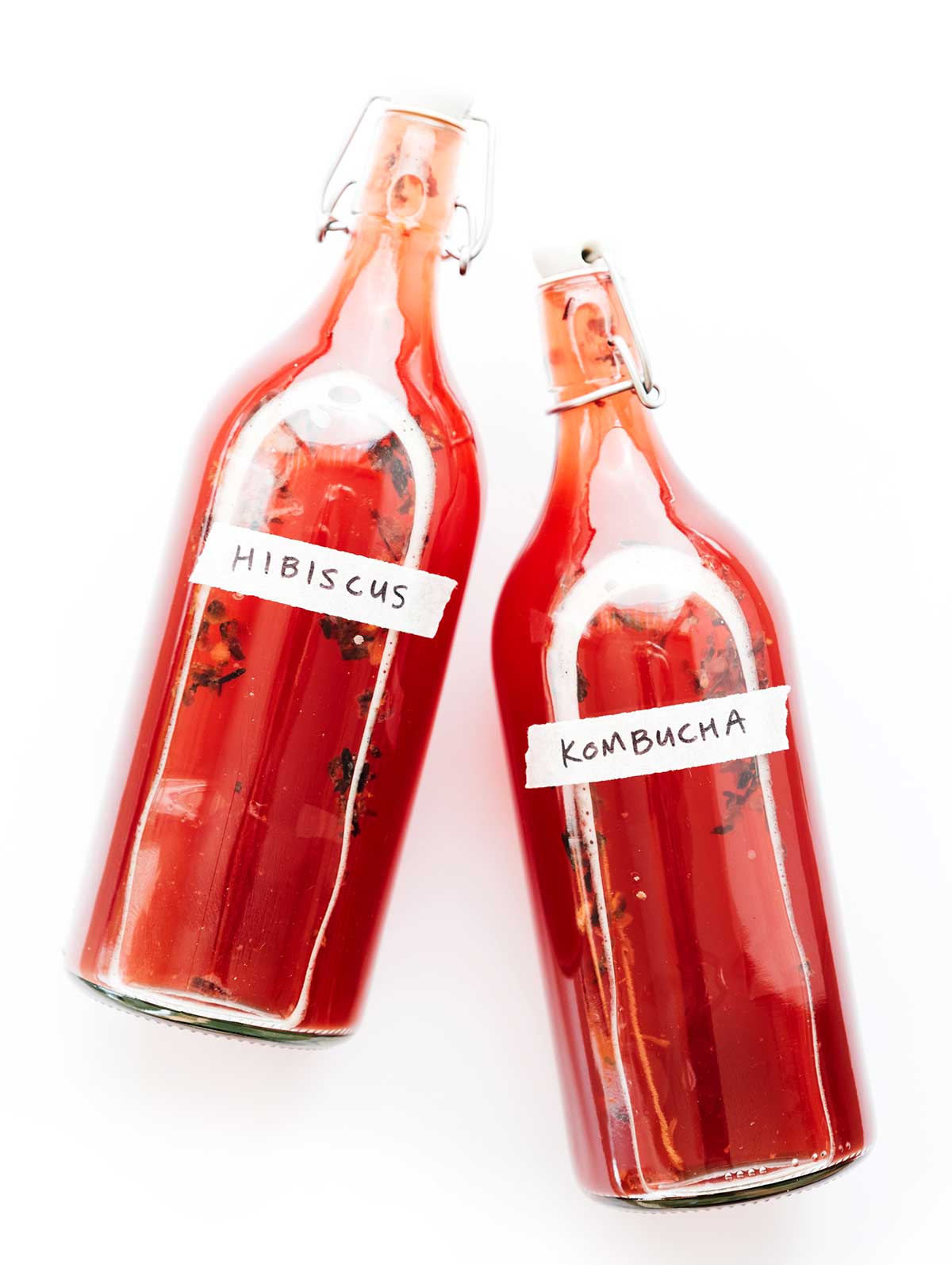 hibiscus Kombucha Flavor Combinations
Hibiscus kombucha works well with bright flavors, like berries, ginger, citrus, and florals. Here are a few of our favorite flavors for pairing with hibiscus:
Rose

: Hints of floral flavor are great with hibiscus. Add blood orange juice for a real treat!

Zingy Raspberry: The fuchsia color of hibiscus kombucha compliments these vibrant berries! This flavor is tart and floral.
Ginger Ale: A floral take on ginger ale!
Blueberry: Offset the tart hibiscus with sweet blueberries (or your favorite berry).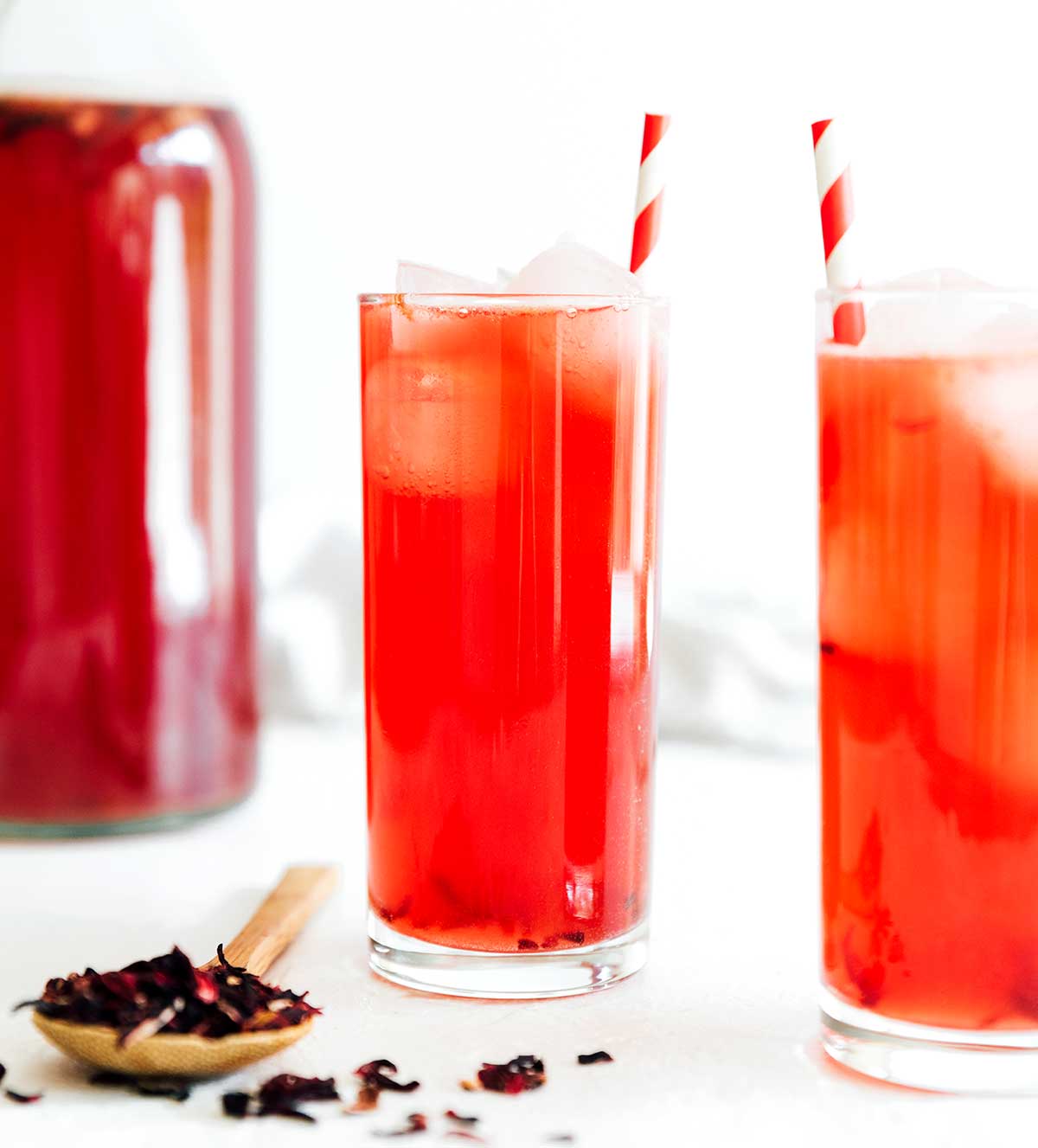 Looking for more florals? Try brewing your first or second fermentation with butterfly pea flowers (full guide here)! Or add a bit of lavender to your second fermentation.
Hibiscus Kombucha (1st or 2nd Fermentation Options)
You can use hibiscus flowers in either the first or second fermentation of kombucha. Pick one and let's get brewing!


Print
Ingredients
If using hibiscus in 1st fermentation
14

cups

water

1

cup

white sugar

1

cup

dried hibiscus flowers

2

cups

unflavored kombucha

1

SCOBY
If using hibiscus in 2nd fermentation
4

cups

kombucha from a first fermentation

can be black or green tea

2

tsp

dried hibiscus flowers

Optional extras

dash of sugar/honey, mashed fruit
Instructions
1st Fermentation Option
If using hibiscus in the 1st fermentation, please follow our 1st fermentation instructions here, simply substituting the black tea bags for dried hibiscus flowers. Be sure to strain out the hibiscus before adding the SCOBY.
2nd Fermentation Option
Bottle: Evenly distribute hibiscus into fermentation bottles, along with optional extras. Pour in kombucha, leaving 1 to 2 inches free at the top

Ferment: For 3 to 10 days, until it reaches the carbonation level you like. This process will go faster in warmer climates, and slower in cooler climates.

Enjoy: Chill in the fridge before serving, straining out the flowers before serving. Can be stored in the fridge, tightly sealed, for several weeks.
Recommended Products
As an Amazon Associate and member of other affiliate programs, I earn from qualifying purchases.