When the question is "what should I gift them this year?", the answer is kombucha! Whether they're new to brewing or a seasoned pro, here are gift ideas for every home brewer. Click the links below to jump around the post, or just keep on scrolling!
Many of the links in this post are affiliate links, which means if you make a purchase after clicking the link, I could earn a commission. Happy shopping and even happier holidays!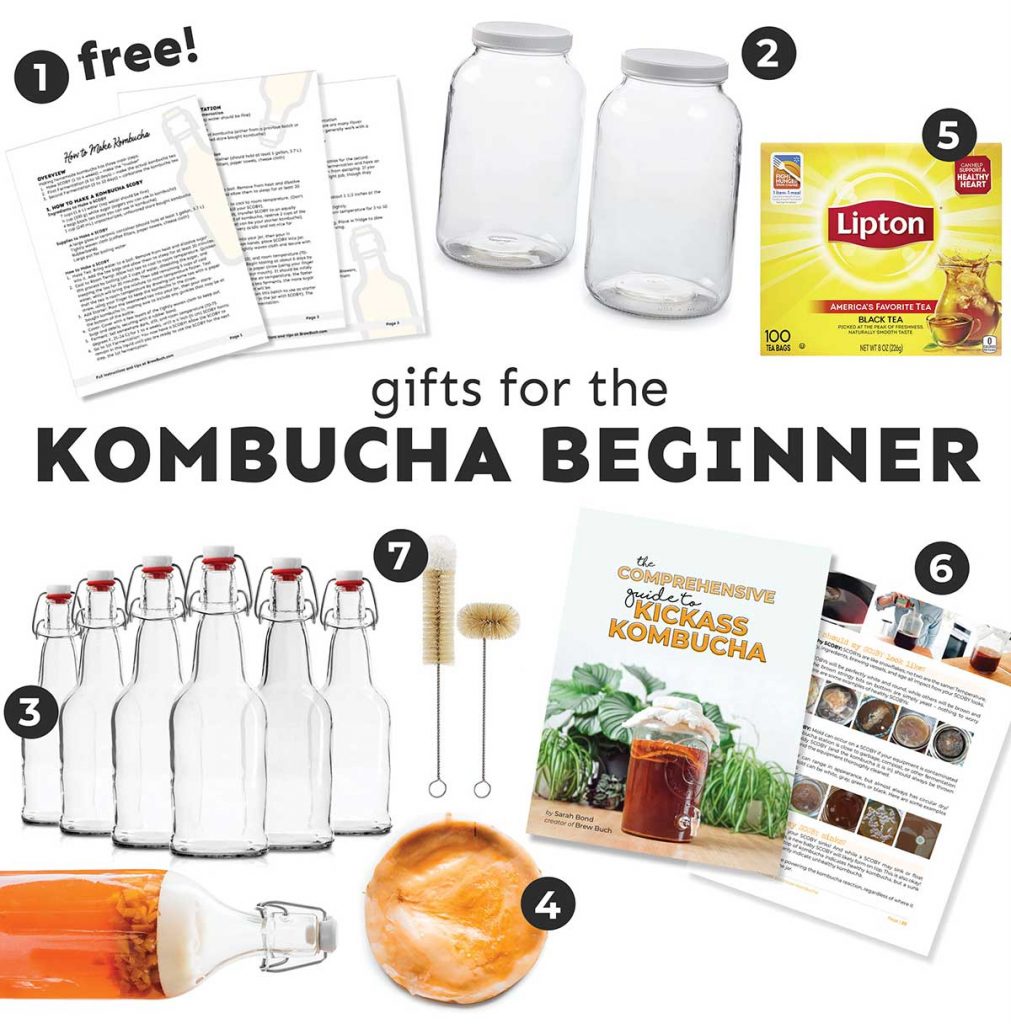 Gifts for the Kombucha beginner
Have a special someone who loves a good project? Or is interested in healthy foods and drinks? Gift them a starter kombucha set! Rather than buying a pre-made set, I love buying each piece separately to guarantee the quality, save money, and make the gift more personable. Here is everything you need to create a kombucha starter kit they'll LOVE!
1. Printable Kombucha Instructions: Attach our free printable instructions to the gift so they know exactly what to do!
2. Large Glass Jar: I love that this set comes with two gallon-sized jars (PLUS the cheesecloth and rubber bands)…because you just know they're going to want to make more than one batch at a time after they fall in love with brewing.
3. Fermentation Bottles: Most pre-made starter kits don't come with flip top bottles, but they'll need these for the second fermentation! They're designed to hold in all that carbonation without exploding (and they come with labels and a marker, win!).
4. SCOBY: Getting them a SCOBY fast tracks them to kombucha success (plus, how fun will it be to see their face when they lay eyes on a SCOBY for the first time?)
5. Black Tea: Save them a run to the grocery store and throw some black tea in the starter kit. They can start brewing right after Christmas breakfast!
6. Comprehensive Guide to Kickass Kombucha: Level up their 'bucha knowledge and get them our comprehensive guide, complete with printable brewing logbooks and a 49-page guide!
7. Bottle Brushes: These brushes are specifically designed to fit into the narrow neck of the fermentation bottles. I love mine!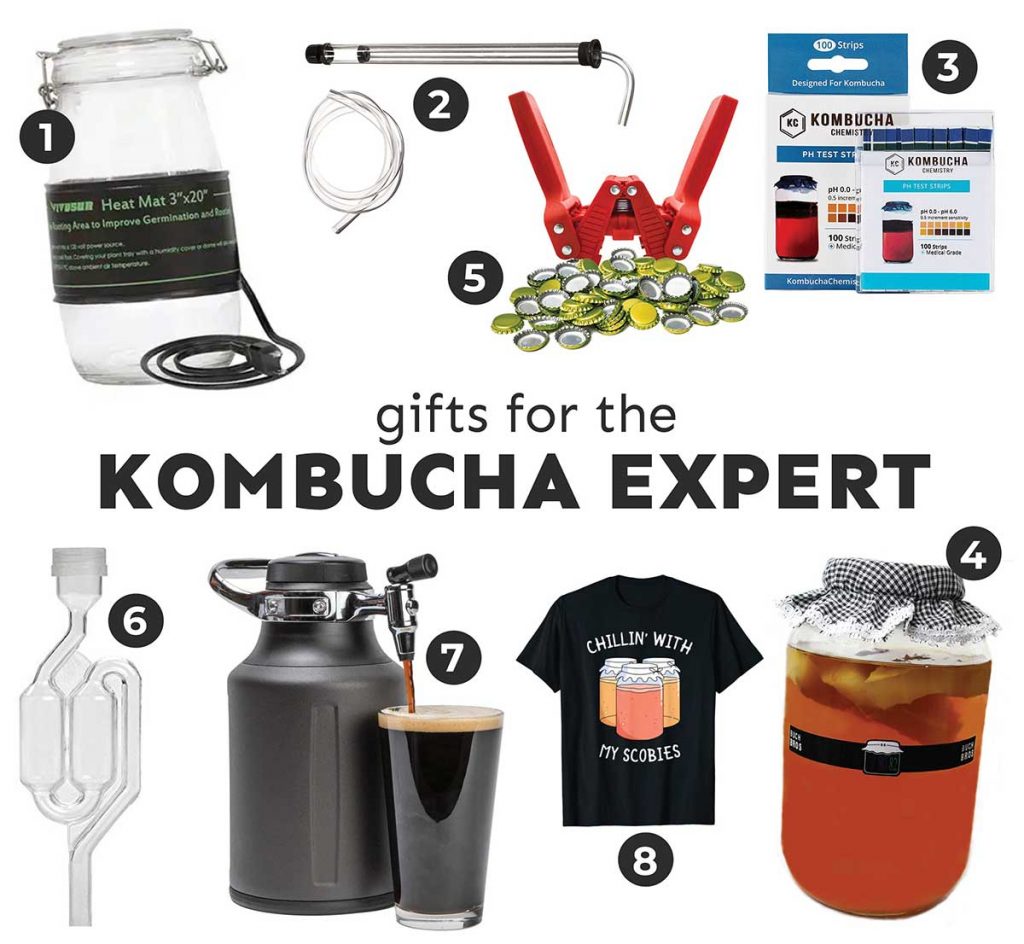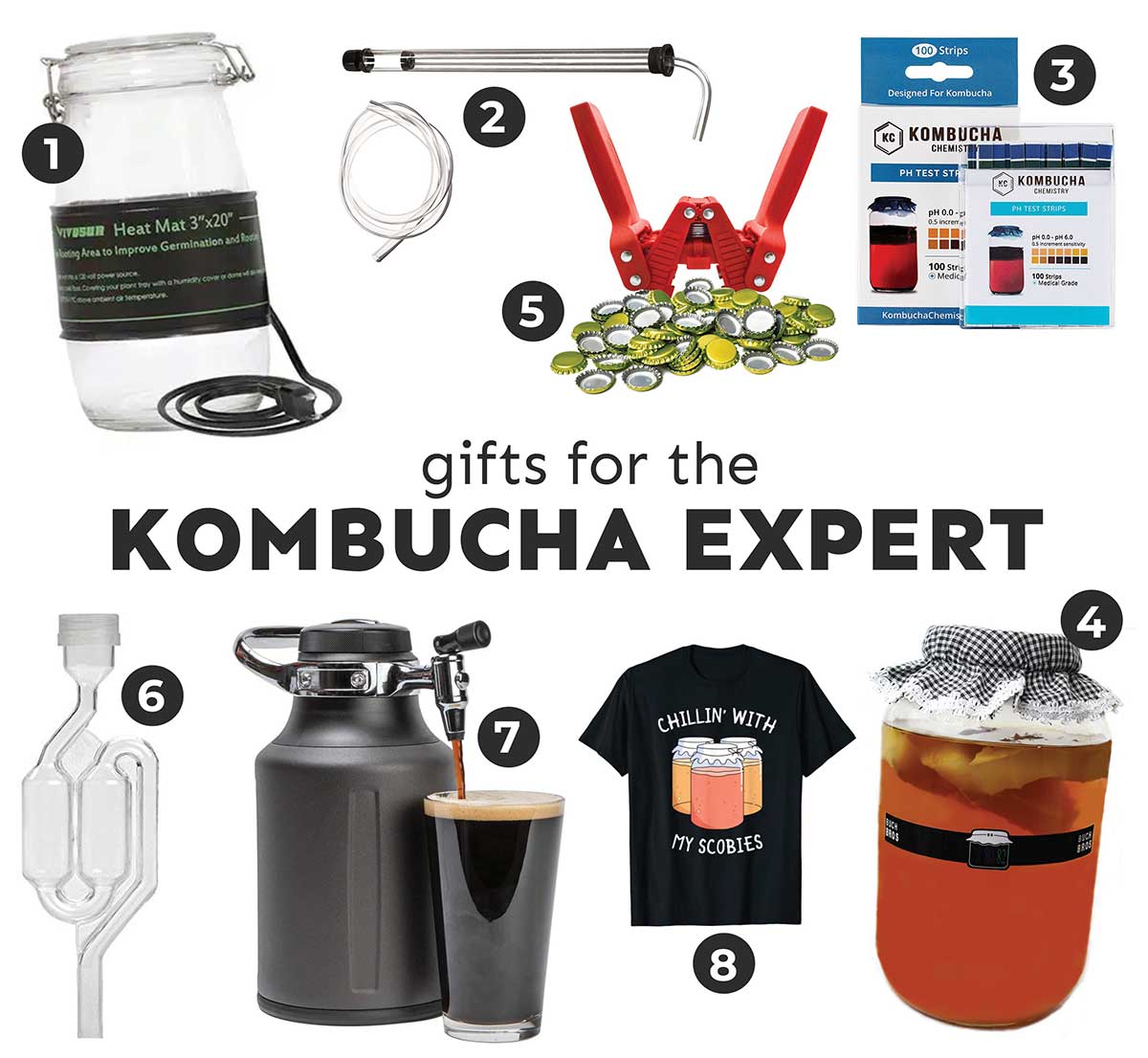 Gifts for the kombucha expert
The seasoned home brewer probably has all the basics, so why not help them take their setup to the next level?
1. Heating Mat: Help them keep their fermentations at a stable temperature with this heating mat, which can either be wrapped around the vessel or underneath a few bottles.
2. Bottling Siphon: A clever solution that helps make bottling day a breeze!
3. pH Test Strips: These are useful for tracking the fermentation so they can know exactly what is going on inside their fermentation.
4. Temperature Strip: These adhesive strips stick to the outside of the vessel so they'll always know what temperature their fermentations are at.
5. Bottle Capper Tool: Is there anything more pro than a kombucha bottled with a bottle cap? No, no there isn't.
6. Airlocks: For the booze loving brewer, get them what they need to make alcoholic kombucha – airlocks and champagne yeast!
7. Carbonated Growler Kombucha Dispenser: Keeps their kombucha cold and carbonated on the go!
8. Chillin' With My SCOBYs Shirt: Can't be a kombucha brewer without the official uniform!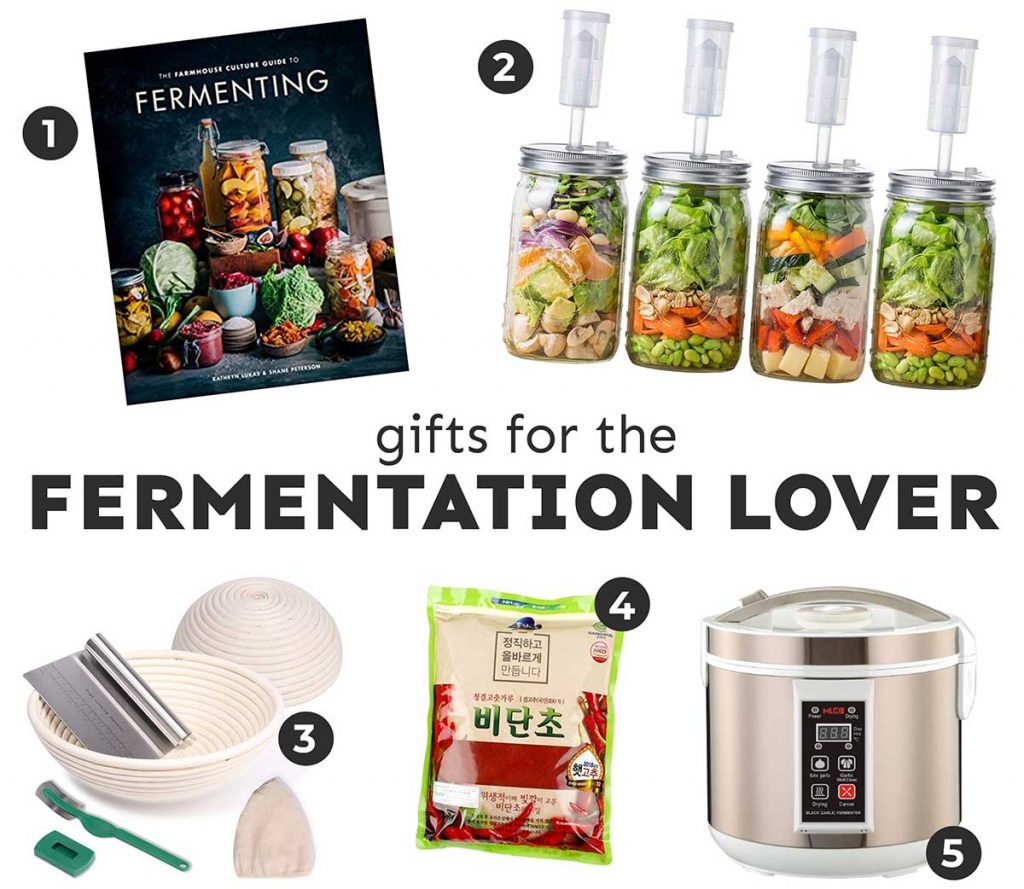 Gifts for the fermentation lover
1. The Farmhouse Culture Guide to Fermenting: Over 100 recipes for fermented foods and drinks (including pickles, kimchi, hot sauces, and preserved fruits).
2. Mason Jar Fermentation Lids: These fit onto wide-mouth mason jars, turning any jar into a fermentation station!
3. Sourdough Proofing Basket: Chances are, if they like brewing kombucha they'll also like making sourdough! Here are the supplies they'll need.
4. Korean Chili Flakes: Kimchi is another fun fermentation they'll have fun with. This pepper is one of the trickier ingredients to find, so they'll appreciate a big bag of it!
5. Black Garlic Fermenter: And for the fermentation lover who has everything…a black garlic fermenter.