Is your kombucha not as fizzy as you would like? We're walking through all the reasons your kombucha isn't carbonated (and how to fix it)!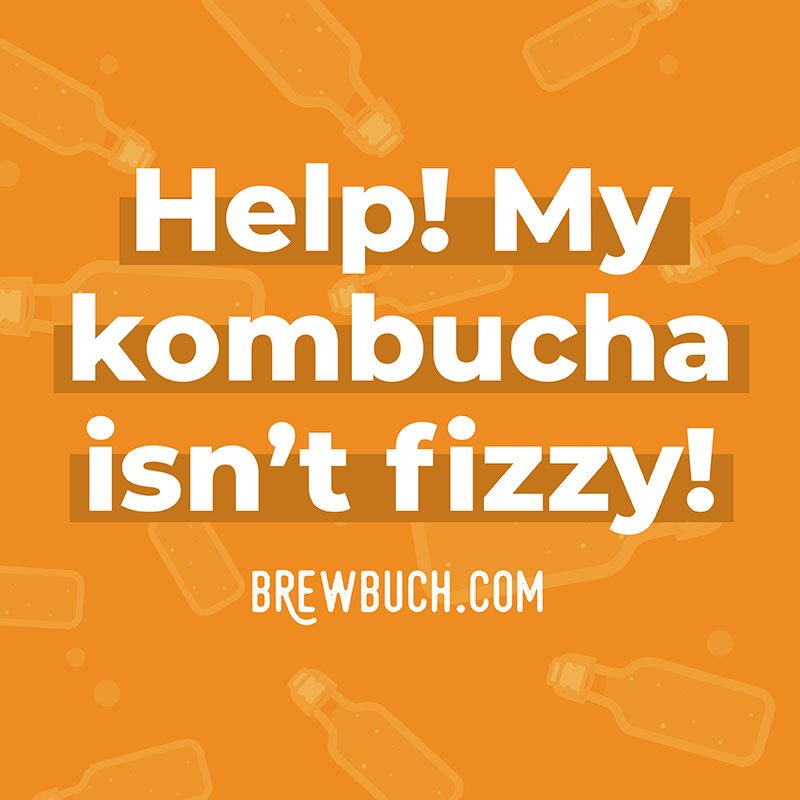 There's nothing quite like the proud feeling of achievement when you crack open a bottle of fizzy homemade kombucha, all carbonated and bubbly and delicious. The flip side, of course, is when your kombucha isn't fizzy and you start to wonder where you went wrong (in kombucha? in life?).
So for all the folks with a sad bottle of flat kombucha on your hands (we've all been there), this is your troubleshooting guide to help you achieve carbonated kombucha success!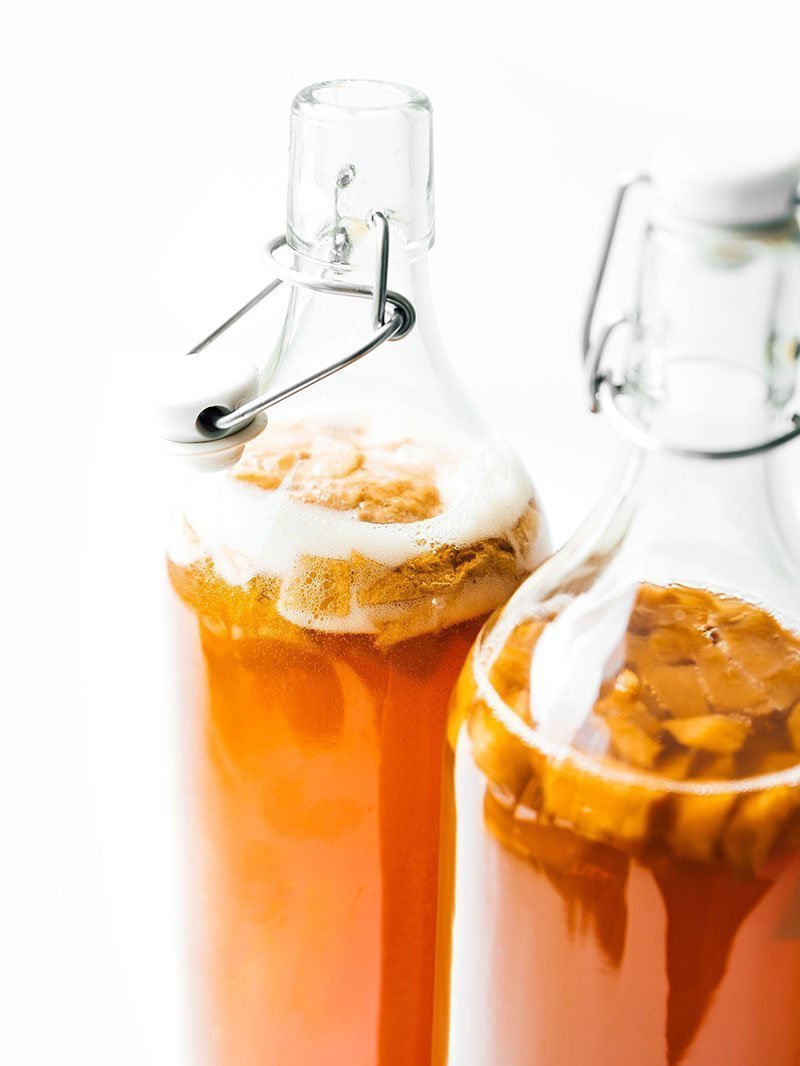 What is carbonation?
Carbonation, put simply, is carbon dioxide (CO2) dissolved in a liquid. In kombucha, the yeasts in your brew eat the sugar and use it to produce alcohol and CO2.
In the first fermentation, the kombucha is covered only with a cloth, meaning the CO2 can escape and doesn't stay in the liquid. That's why we do a second fermentation, sealing the kombucha in airtight bottles and trapping the CO2 in the kombucha.
This method of carbonation is called natural carbonation. Another method is called forced carbonation, and this is when machines are used to artificially add carbonation to a drink. Drinks with forced carbonation include carbonated water, soda, and even most store bought kombucha.
While natural carbonation produces a soft feeling, with smaller bubbles and less tingle, forced carbonation is just the opposite. Forced carbonated drinks are usually sharp feeling, with large, uniform bubbles. This is an important distinction, in that you should not expect your home brewed kombucha to have the carbonated feeling of a soft drink.
With that said, you can make some seriously carbonated and fizzy kombucha. Here's how!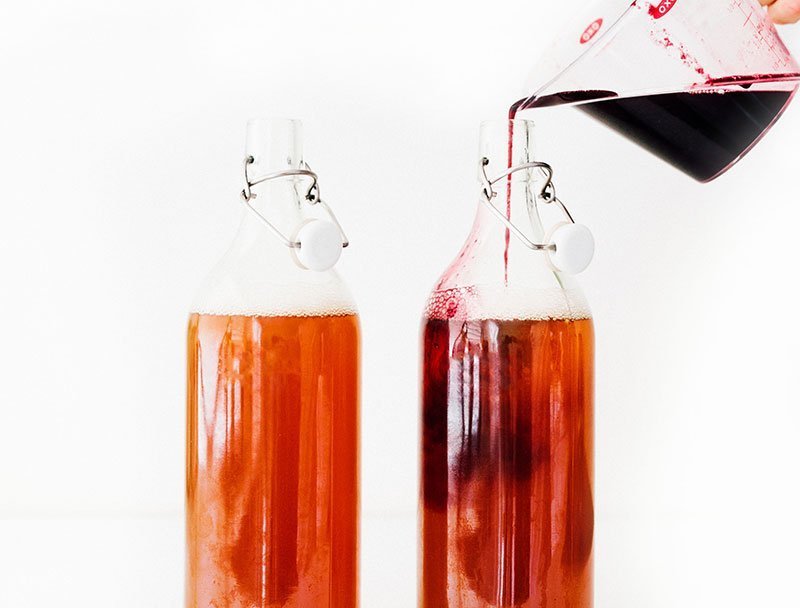 How to carbonate kombucha
To carbonate kombucha, you'll essentially just transfer your uncarbonated kombucha into airtight bottles, add something sweet as "food", seal shut, then wait for the bacteria and yeasts to work their magic!
While some carbonation does occur in the first fermentation (the SCOBY can create a light seal, trapping a little fizz in the brew), most of it occurs in the second fermentation Read more about how to brew kombucha here.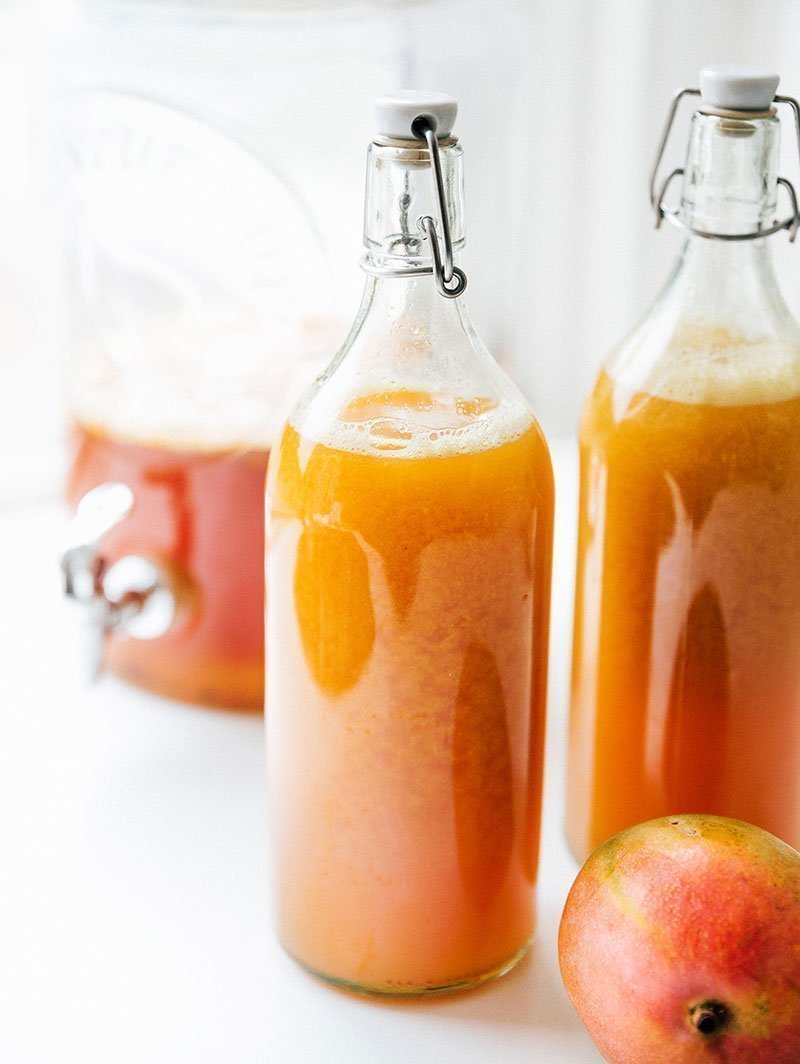 So why isn't my kombucha fizzy?
This brings us to our question of the hour – why isn't your kombucha fizzy? This is one of the most common questions we get in our kombucha Facebook group. There are numerous reasons why your kombucha might not have carbonation:
1. You're not using the right bottles.
You need to use fermentation grade bottles to brew kombucha, as these are specifically designed to not only trap air in, but withstand the pressure build up without exploding or leaking. These flip top bottles and these Grolsch beer style bottles are both great. For the best buch, avoid decorative bottles and mason jars.
2. You need to adjust your first fermentation time.
Your first fermentation needs to run long enough that there are plenty of bacteria and yeasts built up in the kombucha – these power the carbonation reaction. On the other hand, you should ensure your first fermentation isn't going so long that your kombucha tastes sour/vinegary – there needs to be some sugar left for the yeast to feed on to help power the carbonation.
3. You're not letting the second fermentation go long enough.
This one is simple; you may just need to let it (second) ferment longer! A typical second fermentation takes 3 to 10 days, but this could take more time depending on the sugar content and temperature of your house.
4. Your fermentation station is too cold.
Fermentation slows down dramatically when the environment is cold. Ensure your kombucha bottles are somewhere relatively warm (68-78°F). For the winter months, this might mean investing in kombucha heating pads, or finding a warm area in your house (e.g. above the fridge, by a heater, or in the laundry room). Read more on ideal kombucha temperatures here.
5. You're leaving too much air in the bottles.
It's important to leave some head space (empty space) at the top of the bottles before sealing, which will act as a buffer for the pressure (and in turn prevent explosions). With that said, if you leave too much head space, the CO2 simply stays in the air inside the bottle rather than going into the kombucha, resulting in less fizz. Aim for about 1 to 2 inches of head space (this entirely depends on the bottle shape and size, so you may need to adjust as you settle into a fermentation routine).
6. You're not stirring the kombucha before bottling.
If you're pouring the kombucha straight from the fermentation jug into the bottles (and especially if you're using a spigot, like in continuous brewing), then the bacteria and yeast are not being evenly distributed into the bottles. Be sure to give your kombucha a stir before bottling so that every jar can be equally full of that live yeast and bacteria power! This also mixes oxygen into the kombucha, which helps to stimulate the process of carbonation.
7. You're filtering the kombucha before bottling.
By all means, filter the gunk out of the kombucha after the second fermentation, but not before! You want to get all those brown stringy bits (the yeast!) into your second fermentation bottles as well. These will do wonders for the carbonation and fizz.
8. Your tea isn't strong enough.
It could be that your first fermentation brew just isn't strong enough. Either add a few more bags of tea, or let the tea steep for longer to infuse your brew with more "food" for the bacteria and yeast.
9. You're not adding fruit or sugar.
Adding mashed fruits, juices, sugar, or honey not only add flavor, but they are instrumental in carbonating your kombucha. They act as "food" sparking the reaction that creates carbonation. (Pro tip: for maximum fizz, add ginger!) See our favorite kombucha flavors here!
10. You're burping the bottles too much.
I get it, the idea of a bottle exploding is a little scary (and cleaning up the mess that results? even more so). But if you're burping your bottles daily to avoid potential catastrophe, you may be doing a disservice to your carbonation. Try holding off on burping your second fermentation bottles for 2 or 3 days if you're having issues with kombucha not carbonating. (Worried about explosions? Store them in a cooler to contain the potential mess!)