This Lemon Ginger Kombucha recipe has a classic citrusy flavor, perfect for your homemade kombucha!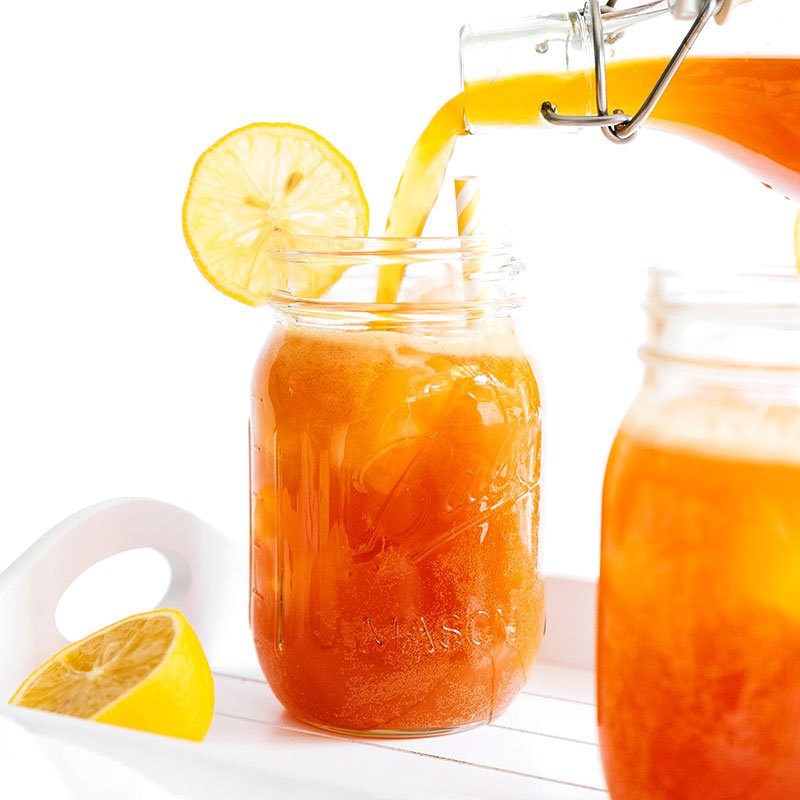 There's a magical tonic the tulip-man blends up anytime one of us so much as sneezes. It involves blending lemon and ginger and good quality honey, which he then uses as a syrup for adding instant, healthy flavor to water.
So naturally, I had to make a kombucha version of it. Because lemon + ginger + kombucha is a match made in heaven. The result is a slightly tart, slightly sweet, seriously refreshing kombucha! It can even be made low carb if that's your thing by simply omitting the honey. Let's brew.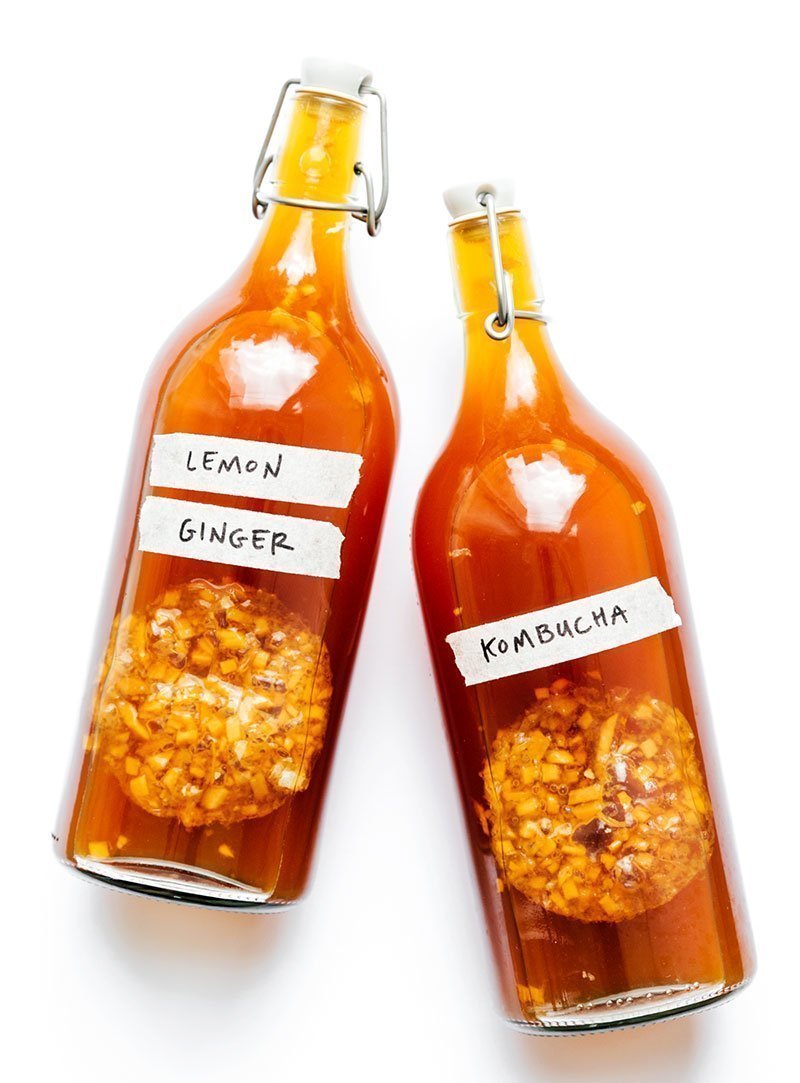 There are two main fermentation phases when making homemade kombucha:
First Fermentation: This is when you transform sweet tea into tart and delicious kombucha (see our comprehensive guide to homemade kombucha here)
Second Fermentation: This is when you carbonate the kombucha by adding flavor and sugars and bottling it (this is what we're doing today with this kombucha!)
In order to make this citrusy kombucha, you will need to have finished the first fermentation already and have some kombucha that's ready to be carbonated!
"This is, hands-down, the favorite flavor of my friend and daughter (and of course me). But the ginger never dissolves it turns into a cork-y texture and flavor and I have no idea how to filter it out and still drink it out of the bottle from the second fermentation. Should I filter it and pour it into a clean bottle after the second fermentation? Suck it up and drink it from a glass? Are there fermentation special bottles with fancy filters on them? Help!"
INGREDIENTS FOR LEMON GINGER KOMBUCHA
Kombucha: You've brewed your kombucha in the first fermentation with the help of your SCOBY and it's the perfect balance of sweet and tart (step-by-step first fermentation instructions here).
Lemon: Fresh lemon juice is packed with flavor and antioxidants, and gives this kombucha a delightfully tart taste.
Ginger: We'll chop it finely (or grate it) to infuse the kombucha with ginger flavor.
Honey: A dash of honey will provide the sugars needed to carbonate the kombucha. For a vegan option, substitute the honey for white sugar.
For a fun twist, you can also try adding pepper to your kombucha (like the tulip-man did with this Spicy Ginger Kombucha). Or add some cloves and orange juice to make a delicious Ginger Ale Kombucha. Or replace the lemon with grapefruit like in this Ginger Grapefruit Kombucha.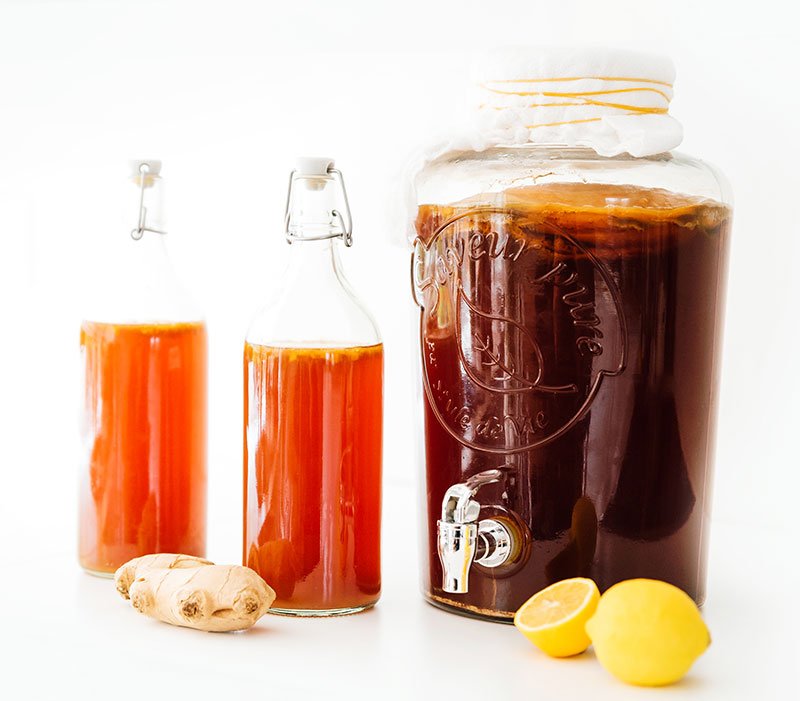 HOW TO MAKE LEMON GINGER KOMBUCHA
Making your own Lemon Ginger Kombucha is super easy. The process goes something like this:
Prep: Juice the lemons and finely chop or grate the ginger.
Bottle: Add kombucha, lemon juice, ginger, and honey to fermentation bottles.
Ferment: For 3 to 10 days, until it reaches the carbonation level you like.
Enjoy: Chill in the fridge before serving.
P.S. this lemon kombucha is so tasty when used to make a kombucha shandy!
Home Brewed Lemon Ginger Kombucha
This Lemon Ginger Kombucha recipe is a classic citrusy flavor, perfect for your homemade kombucha!
Print
Ingredients
½

gallon

kombucha from a first fermentation

this is not store bought kombucha, 1.9 L

2

lemons

¼ cup lemon juice

1

thumb fresh ginger

1 Tbsp chopped or grated

2

tsp

honey

sub white sugar for vegan option
Instructions
Prep: Juice the lemons (you need ¼ cup of juice). Finely chop or grate the ginger (you need 1 Tbsp).

Bottle: Transfer kombucha into fermentation bottles*, leaving about 2 inches empty at the top. Equally distribute lemon juice, ginger, and honey into bottles. Seal tightly.

Ferment: Place in a dark, room temperature area for 3 to 10 days, until it reaches the carbonation level you like. This process will go faster in warmer climates, and slower in cooler climates.

Enjoy: Chill in the fridge before serving. Can be stored in the fridge, tightly sealed, for several weeks.
Video
Notes
*If this is your first time brewing, it may be helpful to use a plastic water bottle as a gauge. Fill a disposable plastic bottle with kombucha (leaving 2 inches empty at the top). When this bottle becomes rock hard, you'll know the glass bottle are also ready. This will help you gauge how quickly kombucha brews in your climate and will prevent bottle explosions.
Recommended Products
As an Amazon Associate and member of other affiliate programs, I earn from qualifying purchases.
Nutrition
Serving:
1
Cup (differs by fermentation length)
|
Calories:
50
kcal
|
Carbohydrates:
12
g
|
Sodium:
10
mg
|
Sugar:
10
g
I first published this Lemon Ginger Kombucha on my vegetarian food blog, Live Eat Learn.