How can you tell if your kombucha has mold? And can you save a moldy SCOBY? Diving into your worst kombucha nightmare (and how to prevent it) here!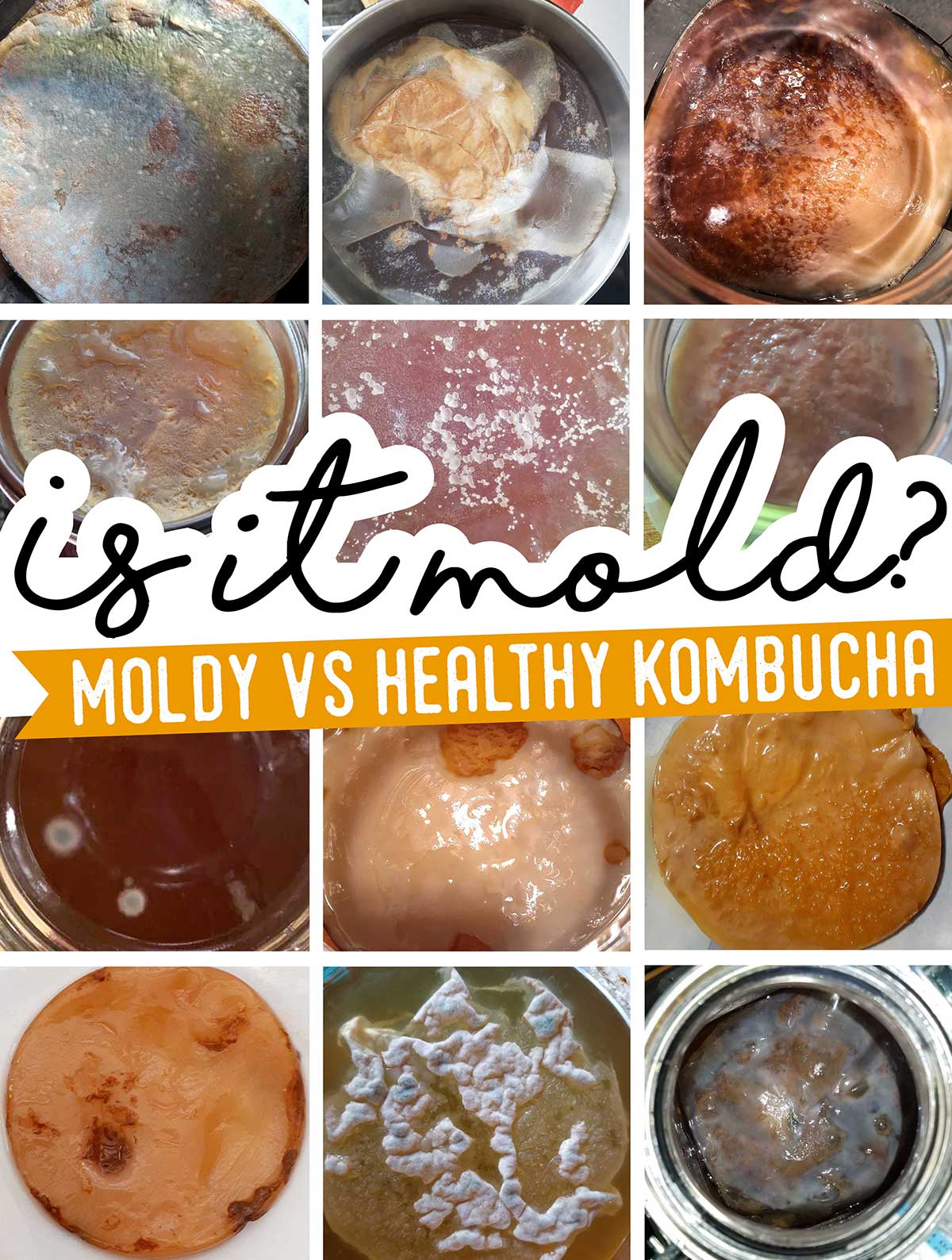 It's every kombucha brewers worst fear…mold. But is it really as scary and world shattering as people seem to believe? No.
The thing is, kombucha mold is totally avoidable, and the chances or contracting mold are quite low if you're brewing kombucha properly.
What is kombucha mold?
Kombucha mold is simply an overgrowth of bad bacteria or fungus. It isn't much different than the mold that might grow on an old loaf of bread.
And while you shouldn't drink any kombucha that has been in contact with mold (just as you wouldn't eat that moldy bread), it's not the end of the world!
What does kombucha mold look like
Though the chances are low, if mold is going to happen it will likely be in the first fermentation, when the kombucha acidity isn't high enough to fend off the bad bugs. Once kombucha is bottled in the second fermentation, the acidity of the brew should prevent mold from growing.
While there are many different strains of mold that can grow – each with their own unique appearance – they usually have a few specific traits:
Fuzzy or dry appearance
Circular shape
Colors range, but may be white, green, black, or blue
On the surface of the kombucha (most mold needs air to survive)
Here are a few photos of kombucha mold for your reference. (Have a moldy SCOBY photo and want to include it in this gallery to help more people ID potentially moldy kombucha? Email me!)
(If your kombucha looks odd but it doesn't look like mold, you could have kahm yeast.)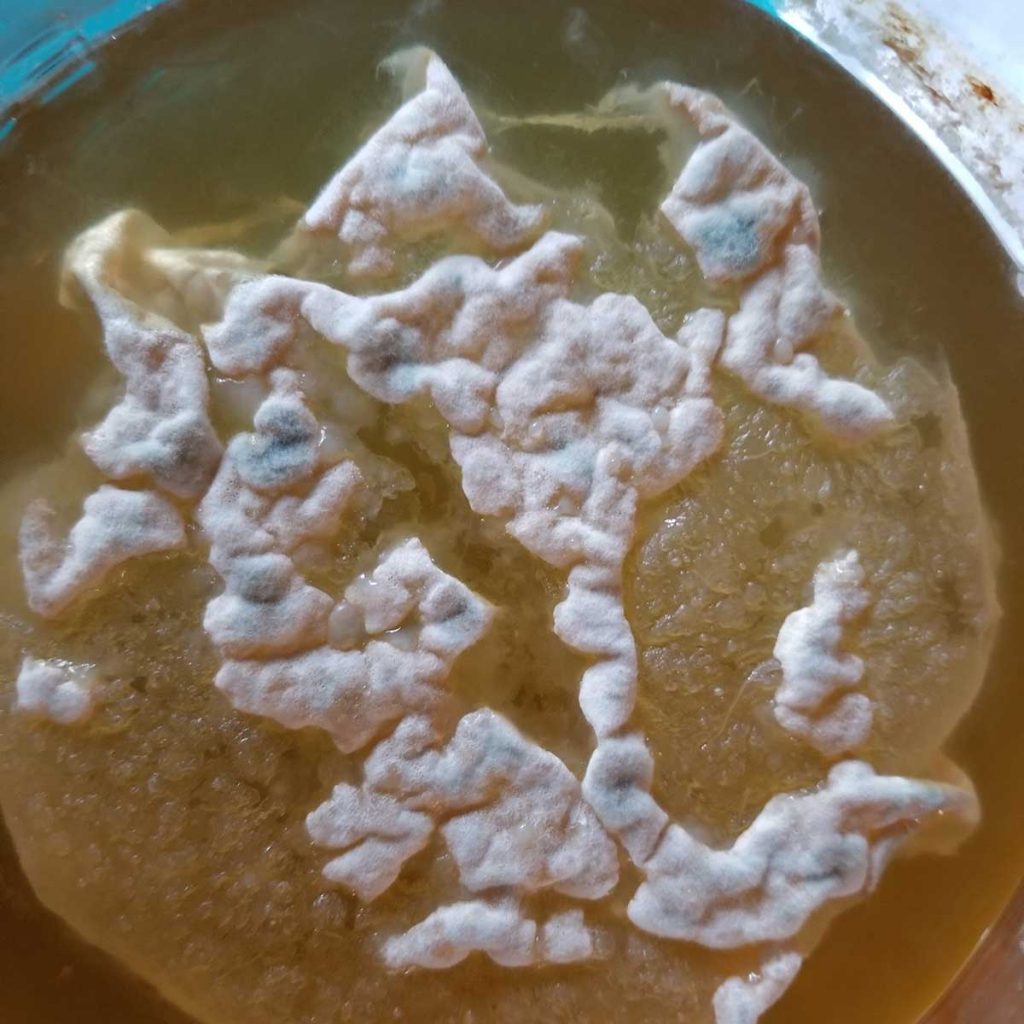 How to prevent mold in your kombucha
If you got mold, it's because something went wrong in the process of brewing. Here are a few common reasons you may have got mold:
Not enough starter: If you didn't use enough starter kombucha, or the starter wasn't strong, the kombucha may not have been acidic enough to defend itself from mold strains. You can use pH test strips to ensure your starter kombucha is strong and acidic (should be between 2.5 and 3.5).
Temperature too low: If the temperature is too low where you're brewing, or if you put your first fermentation / SCOBY in the fridge, the bacteria and yeast go dormant. This means they can't acidify your kombucha, and mold may grow. Never store your SCOBY in the fridge, and ensure you store your kombucha somewhere warm enough to prevent mold.
Supplies not clean enough: Mold spores may have slipped in through your supplies, such as if you used a dirty sponge to clean the jar. Learn to clean your supplies to prevent contamination.
Used the wrong ingredients: Herbal teas and different sugars can weaken the SCOBY over time. Be sure you're using the best teas and best sugars for kombucha.
Wrong place: Where your fermentation station is located matters! Airborne contaminants from garbage, compost, fruit bowls, or even other fermentation projects (like kefir or kimchi) can contaminate your kombucha. Ensure your kombucha is stored away from these.
What if I'm not sure?
The thing is, kombucha looks weird even under normal circumstance. So what if you're not sure?
Just give it a few days! If it's mold, it will grow to look like something in the photos above. If it doesn't grow, it's probably just normal, weird kombucha stuff.
Here are some examples of normal kombucha SCOBYs for your reference. Not sure if yours is moldy or not? Feel free to ask in our Facebook group!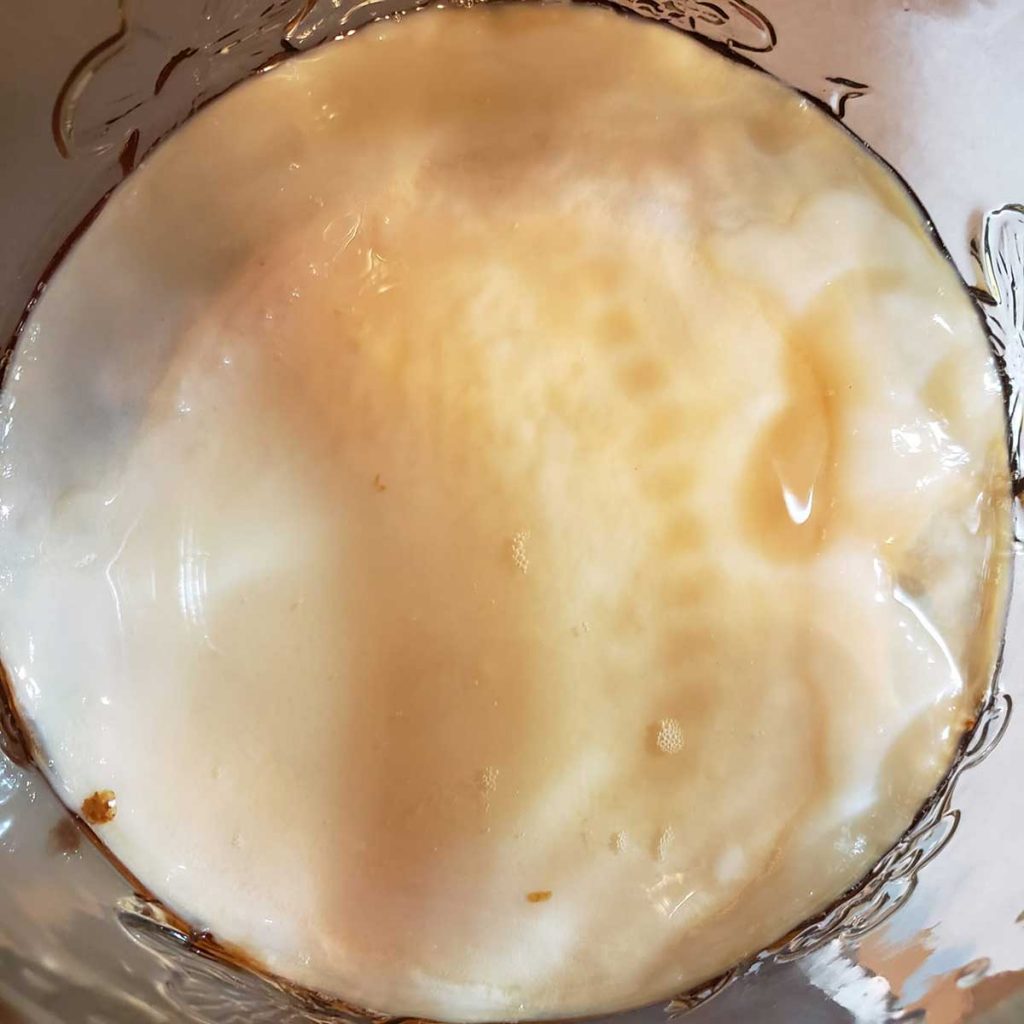 You got mold, now what?
First off, my condolences. Now it's time to make your peace and throw it all away. The SCOBY, the tea, everything. There may be microscopic mold spores that you can't see in the kombucha, so you'll need to toss out the whole batch.
Next step, sterilize everything very well using boiling water and distilled white vinegar. (Here's how I sterilize my kombucha supplies).
Finally, learn from your mistakes and move on. Figure out where you may have gone wrong so you can prevent mold from ever happening again. Can't figure out what went wrong? Read the kombucha master recipe again closely in case you missed something. And feel free to email me with your questions!