Can you use green tea to make kombucha? And what are the benefits of it? Breaking down everything you need to know about green tea kombucha here!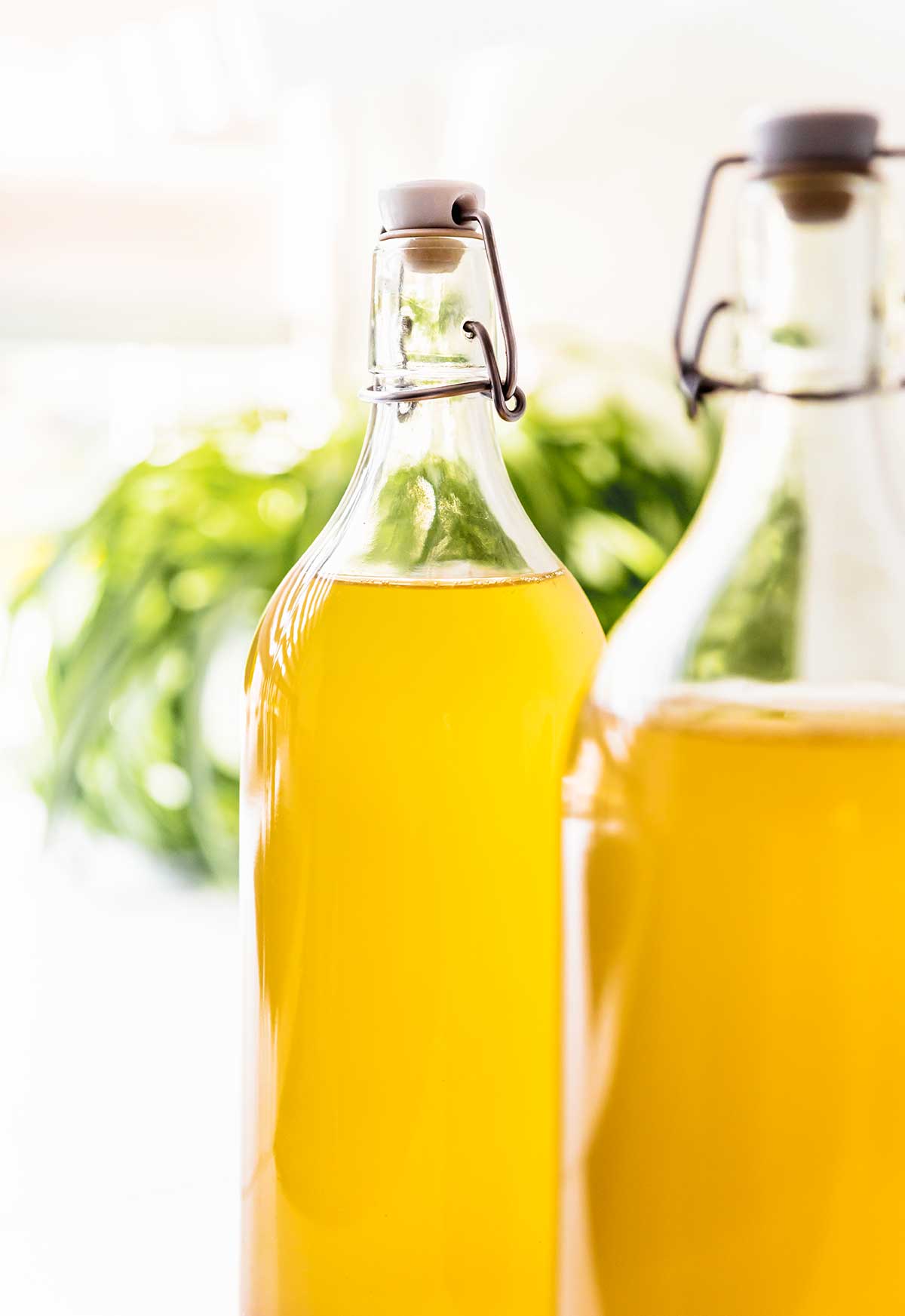 Kombucha is traditionally made with just black tea, sugar, water, and starter kombucha. So as you brew for longer, you may find yourself wanting to switch up ingredients to get different results. And the first thing most people turn to is trying different teas! Which brings us to the topic of the day…
Can you use green tea to make kombucha?
Yes – you can use green tea to make kombucha! Green tea comes from the same plant as black tea. The only difference is that green tea is less oxidized, giving it a lighter color and flavor.
You can make kombucha with 100% green tea, or make it with half green tea and half black.
Kombucha made from green tea is usually much lighter, with a yellow or green hue. It has a more mild flavor, similar to Sprite. And best of all? It's often more fizzy than traditional black tea kombucha!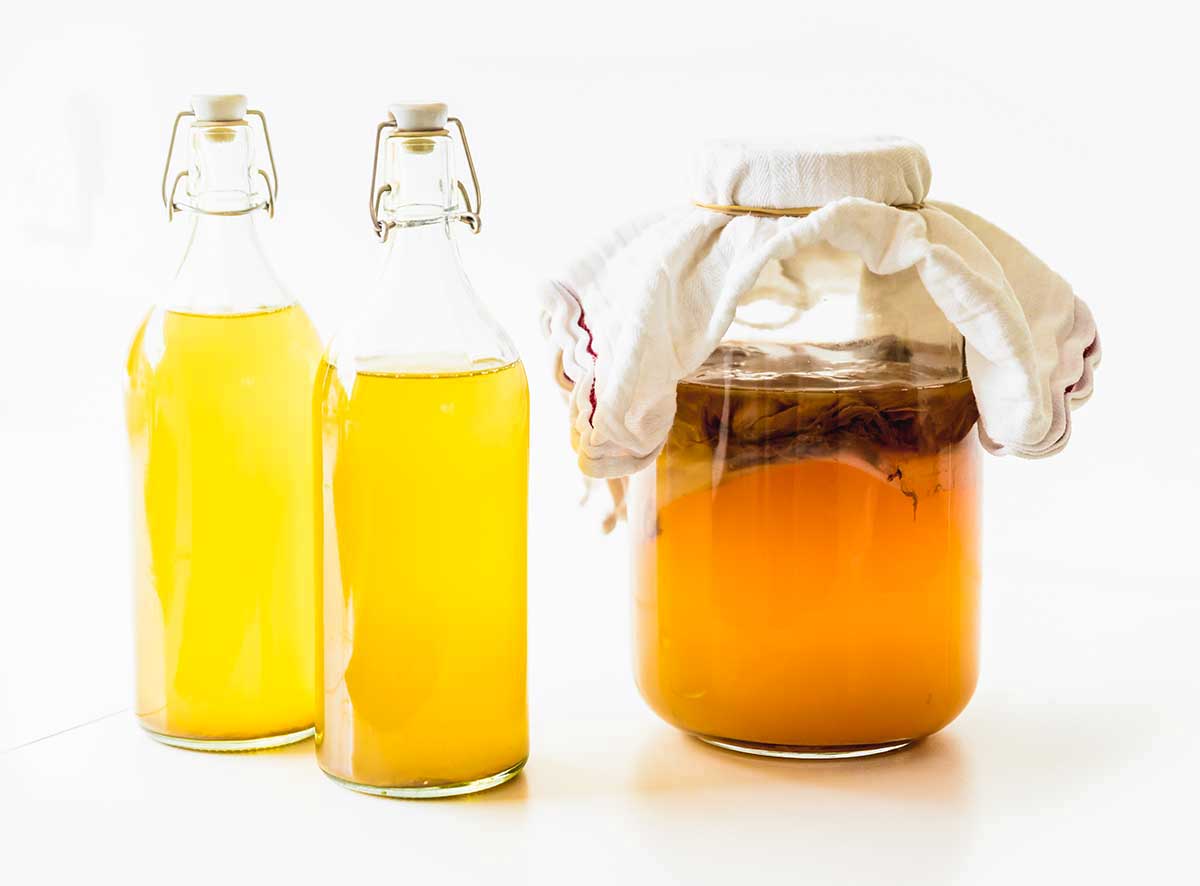 How do you make green tea kombucha?
To start green tea kombucha, you'll need a SCOBY grown from black tea kombucha (here's how to make your own SCOBY). Either peel off a ¼ inch layer of an existing SCOBY, or use the whole thing – depending on if you want to have two batches going (one black, one green).
Then simply start brewing according to our basic kombucha recipe! For the first batch, your starter tea can be black tea kombucha. For following batches, you can use the green tea kombucha you make as starter for the next batches.
If, after a many batches, you notice your green tea kombucha starting to decline (taking longer to brew or not fermenting well), do one batch of black tea kombucha to reinvigorate the SCOBY and starter tea.
What are the best green tea kombucha flavors?
Green tea works well with lighter flavors, like citrus, tropical fruit, and florals. Here are a few of our favorite flavors for using green tea in: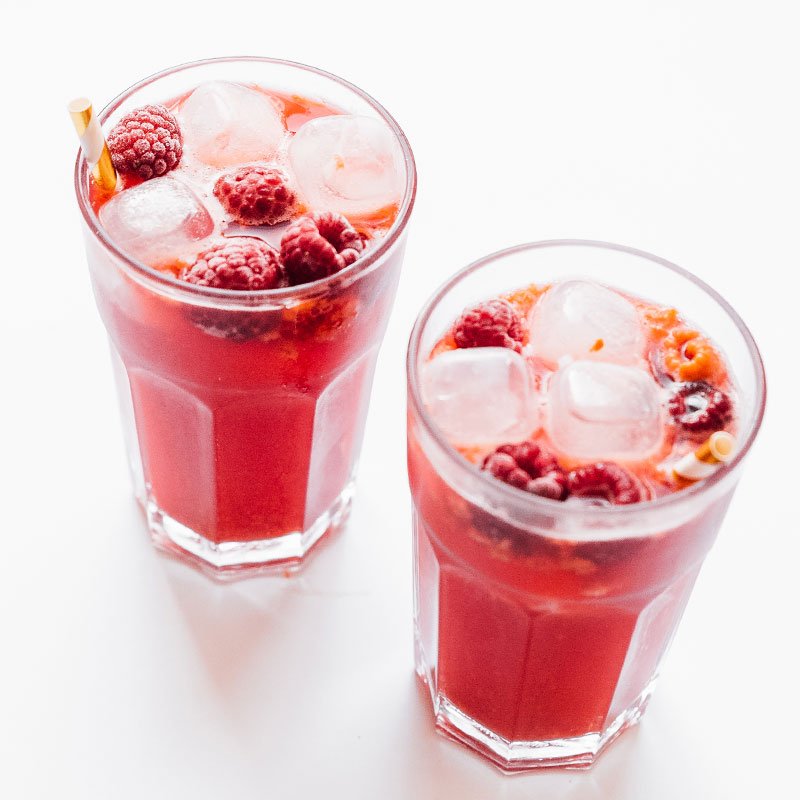 health Benefits of green tea
Another reason to give green tea kombucha a try? It's healthy! Numerous studies support green tea as having cancer-fighting properties. It also contains antioxidant polyphenols which may reduce inflammation.
And for those looking to reduce their caffeine intake, green tea has slightly less caffeine than black tea (25 g in green tea, 29-40 g in black tea).
👉 Our guide to types of green tea leaves here!
Is it the same as jun?
While they are similar, green tea kombucha is not the same thing as jun. Jun is a fermentation much like kombucha, but using solely green tea (instead of black) and raw honey (instead of cane sugar).