Have you wondered how the price of kombucha stacks up when comparing homemade to store bought? We're breaking down all the costs of kombucha so you can decide which is right for you!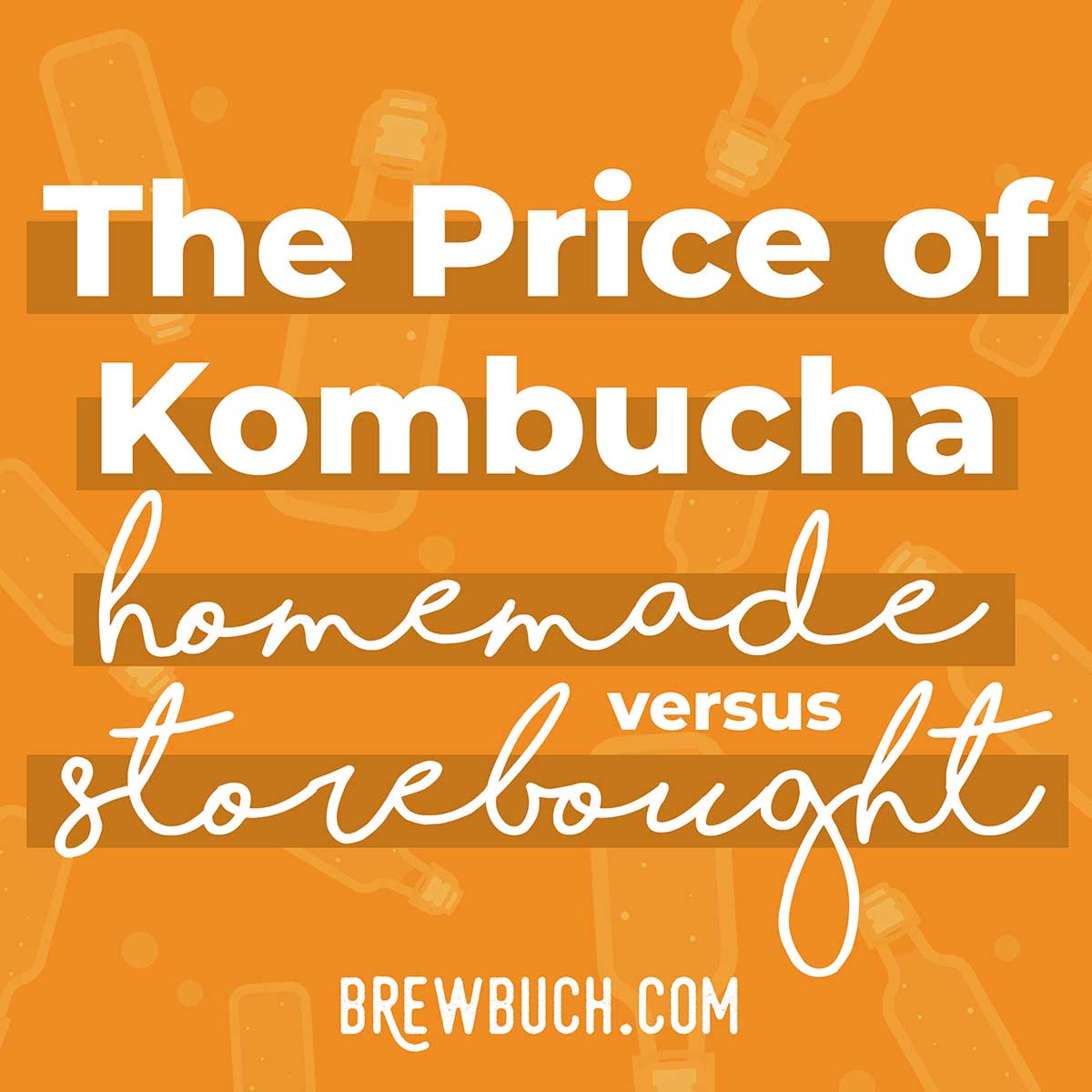 One of the reasons I really started getting into home brewed kombucha wasn't for the kombucha flavors or the kombucha health benefits (though those did follow!), it was for the cost.
Because when your only source of kombucha comes from store bought bottles, the bill adds up! But…exactly how much is that bill? Let's break down the price of kombucha when comparing store bought to homemade!
What does store bought kombucha cost?
Depending on the brand, store bought 16-oz (ish) bottles of kombucha can range from $3 to $5. For the sake of our calculations, we'll say a 16-oz bottle of GT's Original Kombucha costs $3.99.
If you were to drink one 16-oz bottle every week, that would total $207.48 in a year. But if you're a true kombucha fanatic like we are, you drink it more than once a week. So if you were to drink a bottle of store bought everyday, that would cost you $1456.35 in a year.
Phew, that's some serious dough! Why is store bought kombucha so expensive? Well any home brewer can tell you that the process of making kombucha takes several days, meaning it's more labor intensive than other "soft drinks" like soda. It's also a live fermentation, with unique bottling and storage needs that drive up the price.
"love to share my Kombucha. Friends think it cost so much and offer to pay but it cost almost nothing – I give it away and Friends are so impressed with it. They like my kombucha more then store bought."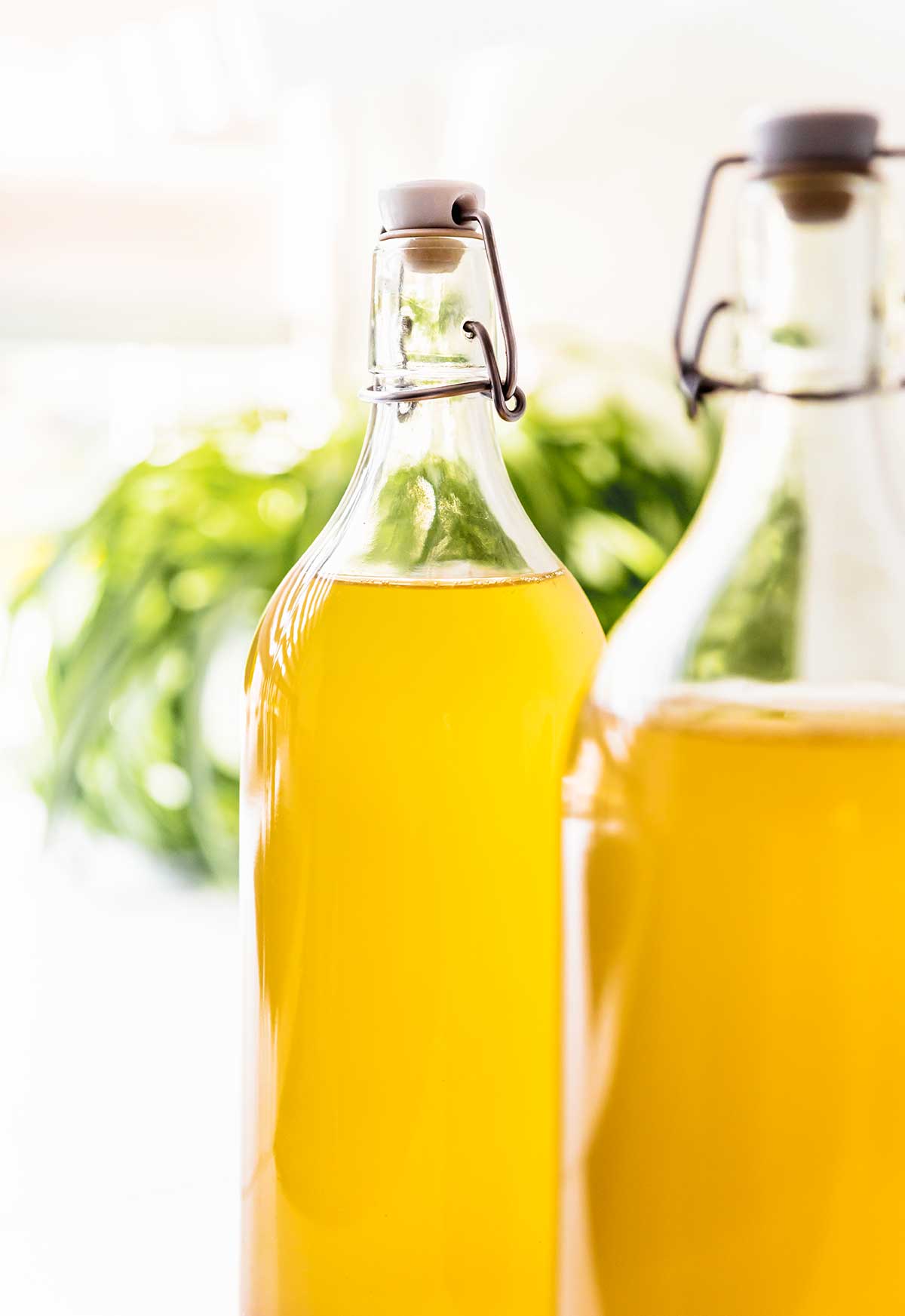 Shrinkflation in kombucha bottling
There is a recent trend among some of the kombucha drink companies to sell their kombucha in smaller bottles. I recently picked up a bottle of Kavita's Ginger to compare it to the taste of our home brew. It is now sold in 15.2 ounce bottles (versus the previous 16 ounce bottles). Shrinkflation is here my friends. All the more reason to brew your own for both taste and cost!
What does homemade kombucha cost?
There are two things to consider when pricing out homemade kombucha: the initial investment, and the day-to-day costs. The initial investment to start up your kombucha brewing operation includes:
Ingredients – $4.29 (1 bottle of store bought kombucha, ½ cup of sugar, 4 bags black tea): With just these ingredients, you can make the SCOBY and kickstart fermentation.
Large Jar – $15.00: These can range in price, and you can likely find it cheaper locally at a thrift store. It just needs to be a gallon-sized glass jar with a wide mouth.
Fermentation Bottles -$17.99: You should optimally use flip top fermentation bottles to carbonate your kombucha, using enough bottles to hold about 96 to 112 oz worth of kombucha (so six 16-oz, or three 32-oz bottles). To do this on the cheap, reuse old store bought kombucha bottles.
Total cost of initial investment = $37.38.
Once you've got all your gear and have made your SCOBY, you'll never have to pay for those things again! After that, each 128-oz batch of homemade kombucha will just cost:
1 cup sugar – $0.28
8 bags black tea – $0.64
Cost for one 16-oz serving = $0.12 (compared to $3.99 for store bought).
If you drink one 16-oz serving every week, it would cost you $6.24 in a year (compared to $207.48 for store bought). But of course, you'll want to drink it everyday, and that will cost you just $43.80 in a year (compared to $1456.35 for store bought).
So should you make or buy kombucha?
The numbers don't lie! Making kombucha at home is so much cheaper than store bought (and getting to show off your kombucha skills to friends and in our Kickass Kombucha Brewers Facebook group? Priceless).
Learn how to start making kombucha with this quick start guide!