For a fun texture and killer nutritional profile, try adding chia seeds to your next batch of kombucha! Here's how to make home brewed Chia Seed Kombucha (with a few helpful precautions)!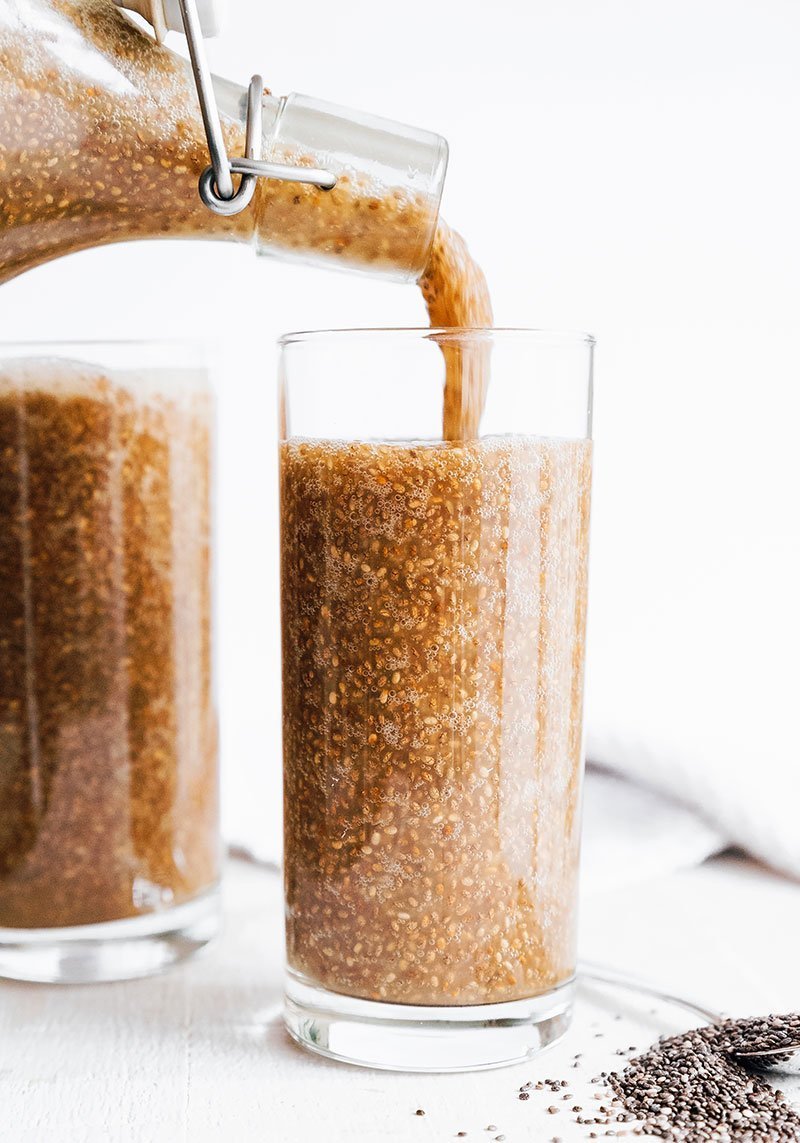 I've been really excited to share this one with you guys. Why? It's simple. CHIA SEED KOMBUCHA IS MY FAVORITE.
I know I'm not supposed to pick favorites when it comes to all my kombucha flavor babies, but if my house was burning and I could save just one bottle of buch, it would be the chia seed kombucha.
Because chia seeds transform the texture of kombucha into thick, fun-to-drink greatness that I just can't get enough of. And while I fall squarely on the side of loving it, chia kombucha is a love or hate thing. Some people don't like the texture of the seeds in a drink.
But if you love it like I do, you're going to want to try this recipe asap as possible. Let's brew.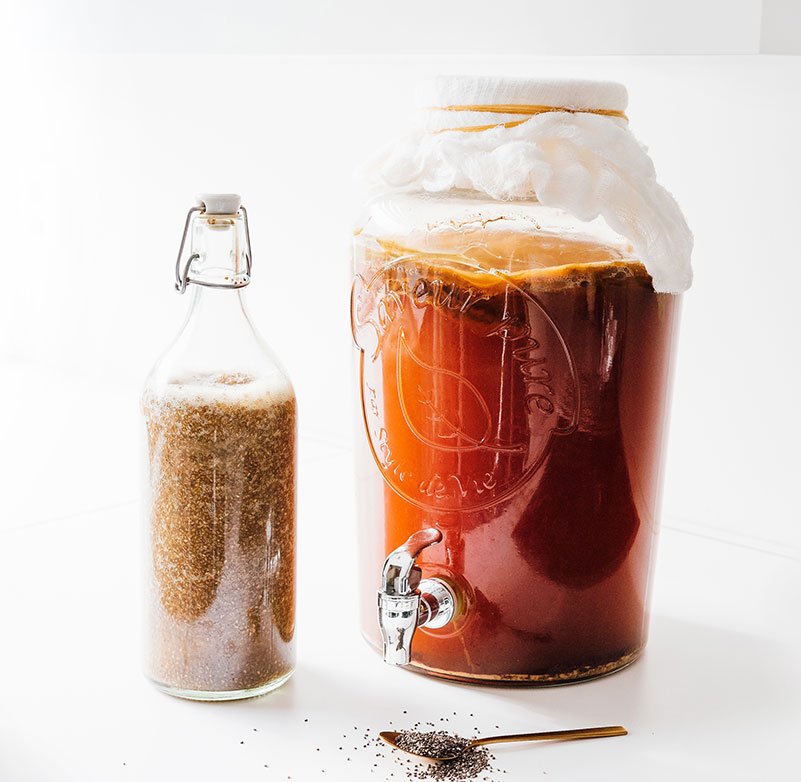 Benefits of chia seeds in kombucha
Chia seeds do so much more than just add a fun texture to kombucha. They're nutritional powerhouses! They contain omega-3 fatty acids (the healthy fats), as well as protein and fiber. In fact, just 2 tablespoons of chia seeds contain half of your daily need for fiber!
How to add chia seeds to kombucha
Adding chia seeds to kombucha is not the same as adding fruit to kombucha (speaking from experience here guys…a very messy experience). When chia seeds are exposed to liquid, they swell up, creating a gel.
So if you were to – say – add dry chia seeds to a bottle of kombucha and seal it shut, the bottle is much more apt to explode (or at the very least, spray chia seeds literally everywhere upon opening) (I'm still finding chia seeds around my kitchen).
So how do you add chia seeds to kombucha? You simply hydrate them before adding them to your kombucha! Combine chia seeds and water (or juice), shaking or stirring for a few minutes to prevent the chia seeds from clumping. Let the seeds absorb the liquid for a few hours, then just add the gelled chia seeds to your finished kombucha (i.e. kombucha that has already gone through the second fermentation and is fizzy and ready to drink).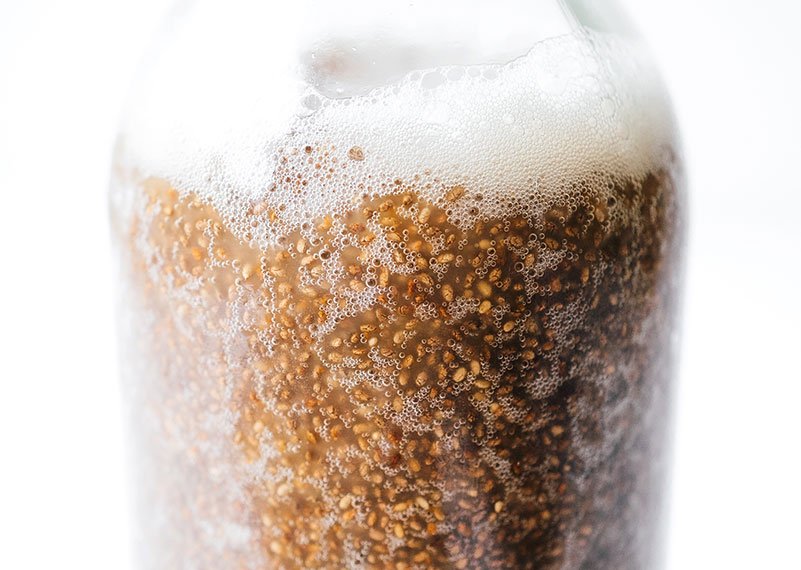 You can add chia seeds to virtually any flavor of kombucha, but I especially love it in a simple Strawberry Kombucha, Zingy Raspberry Kombucha, or a tropical Mango Kombucha. It's also great in the nutritious Green Goddess Kombucha.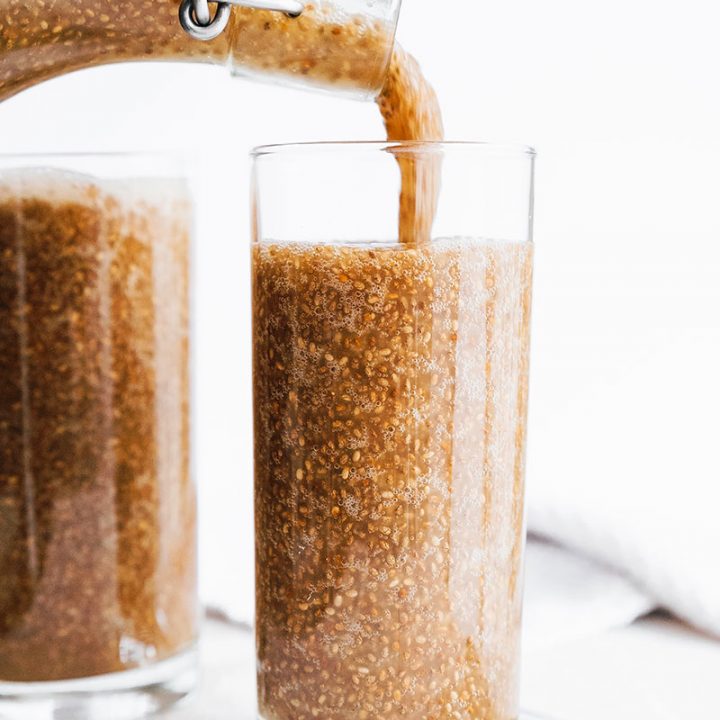 Chia Seed Kombucha
For a fun texture and killer nutritional profile, try adding chia seeds to your next batch of kombucha!
Print
Ingredients
Large Batch
4

cups

finished

flavored kombucha (from second fermentation, 945 mL)

2

cups

water or juice

475 mL

1/2

cup

chia seeds

85 g
Small Batch
1

cup

finished

flavored kombucha (from second fermentation, 236 mL)

3

Tbsp

chia seeds

30 g
Instructions
LARGE BATCH

Rehydrate the chia seeds by combining the seeds with the water or juice, stirring or shaking every few minutes for an hour until seeds have swelled up.

Add chia mixture to kombucha. Serve immediately or seal and store in the fridge, burping the bottle everyday to prevent pressure buildup.

SMALL BATCH

Stir together kombucha and chia seeds until chias are hydrated. Chill if needed then serve.
Notes
You can add chia seeds to any flavor of kombucha. A few of my favorites are:
Recommended Products
As an Amazon Associate and member of other affiliate programs, I earn from qualifying purchases.
Nutrition
Serving:
1
cup (depends on fermentation length)
|
Calories:
150
kcal
|
Carbohydrates:
17
g
|
Protein:
6
g
|
Fat:
9
g
|
Saturated Fat:
1
g
|
Sodium:
10
mg
|
Fiber:
10
g
|
Sugar:
2
g