This kombucha popsicles recipe is packed with probiotics! They're a healthy icy sweet summer treat you'll love.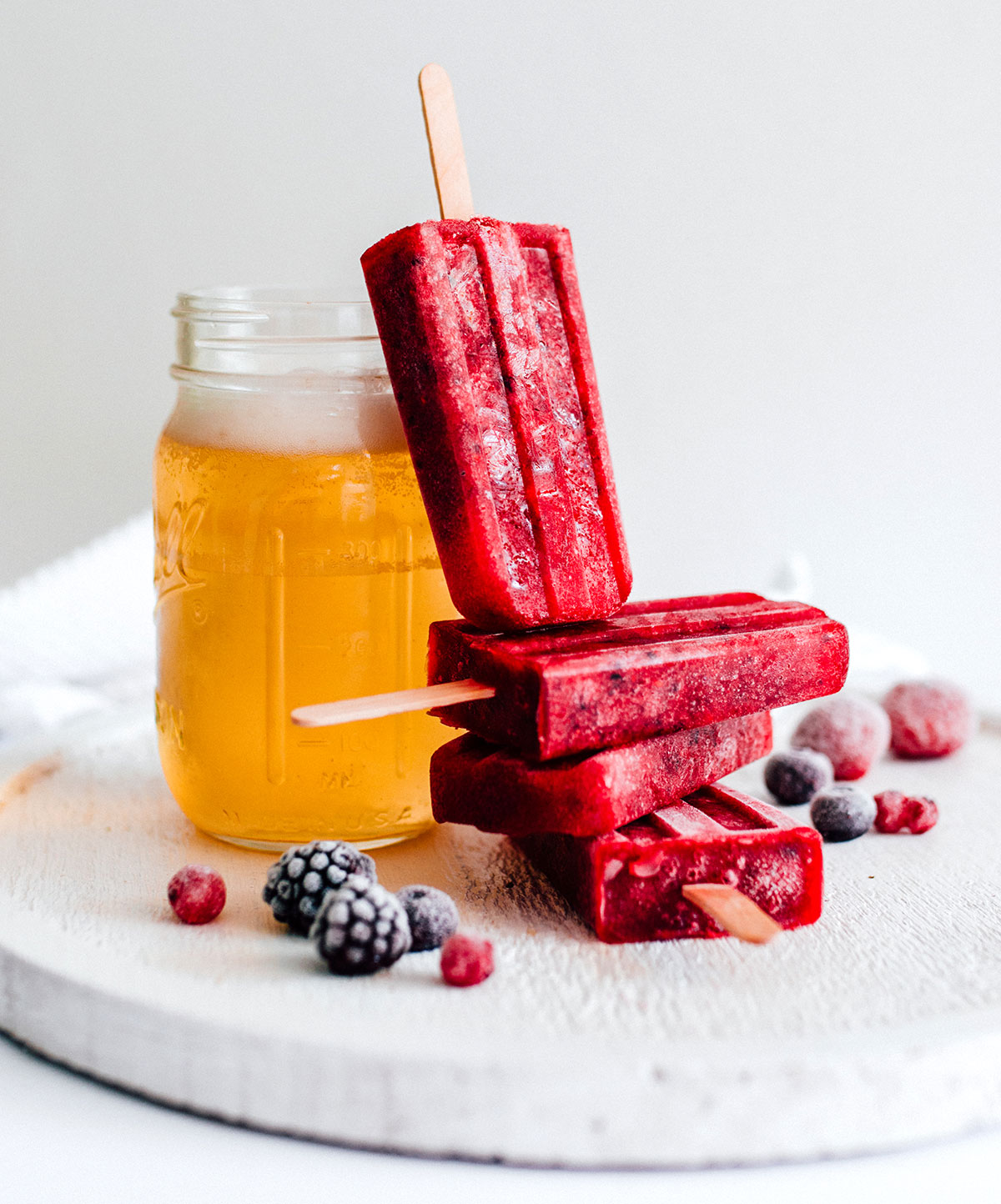 Get ready to cool down with a delightful and healthy treat – kombucha popsicles!
If you're a kombucha brewer and find yourself with an abundance of this fermented goodness, this unique recipe is just what you need.
These popsicles combine the tangy flavors of kombucha with the vibrant sweetness of mixed berries, creating a refreshing and guilt-free treat.
With just a few simple steps, you can transform your excess kombucha into delightful frozen delights that are perfect for hot summer days. Let's dive into the recipe and indulge in the goodness of kombucha-infused popsicles!
Kombucha Popsicle Ingredients
You'll just need three simple ingredients to make these probiotic-packed popsicles.
Mixed Berries: Fresh or frozen mixed berries add a burst of vibrant flavor and natural sweetness to the popsicles. They also provide essential vitamins, minerals, and antioxidants. You can use a variety of berries such as strawberries, blueberries, raspberries, or blackberries, based on your preference and availability.
Kombucha: The star ingredient of these popsicles, kombucha, brings its unique tangy and slightly effervescent qualities. It's a fermented tea beverage that is rich in probiotics, which promote gut health and digestion. Use your homemade kombucha or choose a store-bought one with your preferred flavor profile.
Honey: Honey acts as a natural sweetener in the recipe, balancing the tartness of the kombucha and enhancing the overall taste. Adjust the amount based on your desired level of sweetness.
What flavor kombucha should you use?
Any flavor of kombucha is great in these popsicles! Here are a few tasty ideas if you want to flavor these popsicles differently (simple replace the berries in the recipe with the fruit listed!)
Pineapple Kombucha + Fresh Mango: The tropical sweetness of fresh mango perfectly complements the bright and tangy flavors of pineapple kombucha, creating a refreshing and exotic popsicle.
Peach Kombucha + Ripe Apricots: The juicy and aromatic flavors of ripe apricots beautifully harmonize with the delicate sweetness of peach kombucha, resulting in a luscious and summery popsicle.
Strawberry Kombucha + Kiwi Slices: The crisp and hydrating essence of strawberry kombucha pairs wonderfully with the vibrant and tangy taste of kiwi, delivering a revitalizing and flavorful popsicle.
Mango Kombucha + Passion Fruit Puree: The tropical intensity of passion fruit kombucha combines harmoniously with the juicy and tropical notes of mango, creating a vibrant and tropical popsicle delight.
Ginger Kombucha + Fresh Pear: The warm and spicy undertones of ginger kombucha are beautifully complemented by the sweet and crisp flavors of fresh pear, resulting in a subtly spicy and refreshing popsicle.
You could even make these popsicles with hard kombucha for a fun boozy treats!
Kombucha Popsicles (Probiotic Ice Pops!)
Servings:
8
2-oz popsicles
This kombucha popsicles recipe is packed with probiotics! They're a healthy icy sweet summer treat you'll love.
Print
Ingredients
1

heaping cup

mixed berries

fresh or frozen and thawed

1

cup

kombucha

flavored or unflavored, 236 mL

2 to 4

Tbsp

honey

to taste
Instructions
Blend: Combine all ingredients in a blender until smooth, adding more or less honey depending on your taste and the tartness of the berries you use.

Freeze: Pour into molds (I used 2-oz molds), leaving a little space at the top for them to expand. Insert sticks and freeze until hard (at least 4 hours. These pops tend to separate a little, which you can prevent it you'd like by treezing them for 1 hour, stirring each well, then inserting sticks and freezing until hard.

Serve: Run the mold under warm water for a few seconds to loosen them up, then remove from the mold.
As an Amazon Associate and member of other affiliate programs, I earn from qualifying purchases.
Nutrition
Serving:
1
popsicle
|
Calories:
30
kcal
|
Carbohydrates:
7.3
g
|
Protein:
0.1
g
|
Fat:
0.1
g
|
Fiber:
0.6
g